The Virtual Reality War: Facebook Vs. Google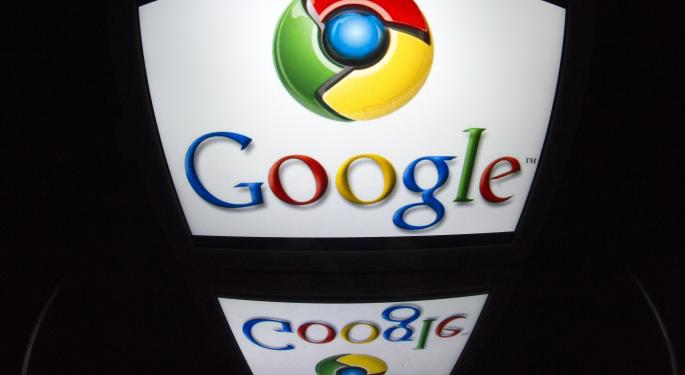 This year, virtual reality has been a hotly anticipated trend that investors have been watching closely.
The technology has a wide range of uses — from training surgeons to perform complex operations to providing a better movie-watching experience at home, virtual reality appears to be on the cusp of becoming the tech space's 'next big thing.' However, current models are still too cumbersome for the average consumer, leaving investors to guess which tech giant will be first to develop a consumer friendly version that will propel virtual reality into mainstream use.
Related Link: Apple's Secret Plan To Change Augmented Reality Is Finally Emerging
Facebook Is First
Facebook Inc (NASDAQ: FB) was the first big name to announce its plans to enter the virtual reality space with the company's purchase of Oculus, a firm specializing in headsets designed primarily for gaming, in March 2014. Since then, the two have been working to improve the technology and recently purchased Surreal Vision, a startup that aims to use virtual reality to give users real-world experiences from the comfort of their homes.
The Surreal Vision acquisition suggested that Facebook is looking to do more than create a cool way to play video games, the company may use the technology to make things like doctors' consultations or front row concert seats available to people inside their living rooms.
Google Jumps In
Google Inc (NASDAQ: GOOG)(NASDAQ: GOOGL) recently announced its intention to enter the virtual reality space as well. The company is partnering with action video camera maker GoPro Inc (NASDAQ: GPRO) to create a new system that will allow users to make their own virtual reality videos.
Google unveiled its latest offering, a system boasting 16 Go Pro cameras and Google software, at its developer conference last week; but there has been no word as to when it will hit the shelves.
Posted-In: Oculus Oculus Rift Surreal Vision virtual realityTech Best of Benzinga
View Comments and Join the Discussion!