Benzinga's Weekend M&A Chatter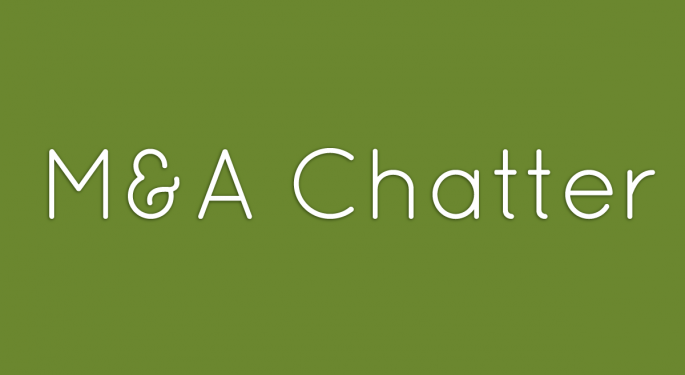 The following are the M&A deals, rumors and chatter circulating on Wall Street for Friday May 29 through Sunday May 31, 2015:
Intel Close to Deal to Acquire Altera for as Much as $54/Share; Deal Could be Announced Monday
The Rumor:
The NY Post reported Friday that Intel (NASDAQ: INTC) was close to a deal to acquire Altera Corp (NASDAQ: ALTR) for as much as $54 per share, according to sources. The deal could be announced by the end of this week, the report said. On Sunday, the Wall Street Journal reported the deal could be announced on Monday.
The Wall Street Journal first reported on March 27 that the two companies were in talks.
Altera shares rose 4% Friday, to close at $48.85.
Rosetta Stone Confirms Expression of Interest from RDG Capital Fund Management
The Interest:
Rosetta Stone Inc. (NYSE: RST) announced Friday, that its Board of Directors has received an expression of interest from RDG Capital Fund Management and will carefully evaluate the expression of interest.
Rosetta Stone's Board said the company is actively implementing its strategic plan, which it believes will deliver attractive value for shareholder
Rosetta Stone shares fell 18.5% Friday, closing at $7.62.
Geeknet Confirms Superior Binding Offer from Strategic Buyer at $20/Share in Cash
The Offer:
Geeknet, Inc. (NASDAQ: GKNT) announced Friday, that its Board of Director's had determined that the previously announced offer from a strategic acquirer of $20.00 per share in cash, was superior to the previously announced agreement and plan of merger with Hot Topic, Inc. That offer was $17.50 per share in cash.
Hot Topic was notified of the Board's decision and has until Monday June 1 to respond.
Geeknet shares rose 5% Friday, closing at $19.90.
Humana Reportedly Considering Sale Of Company
The Rumor:
Shares of Humana (NYSE: HUM) soared Friday to all-time highs, on a report from the Wall Street Journal, that the company has received takeover interest from companies including Aetna (NYSE: AET) and Cigna (NYSE: CI). Sources say Humana is working with Goldman Sachs on a potential sale.
Shares from other healthcare companies, including Anthem (NYSE: ANTM) and Molina (NYSE: MOH), also rose to new highs following the report. Omega Advisors' Leon Cooperman announced a new stake in Humana on May 15.
Humana shares rose 20% Friday, closing at $214.65.
View Comments and Join the Discussion!