Is Apple Eying The Japanese Debt Market?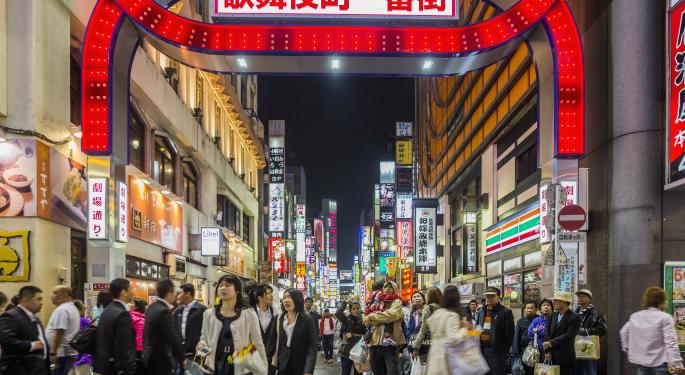 According to Nikkei Asian Review, Apple Inc. (NASDAQ: AAPL) is eyeing the Japanese debt market and is considering issuing about 200 billion yen ($1.62 billion) worth of bonds as soon as next month.
Apple hasn't been a stranger to the international debt market and raised billions of dollars through the European market in 2014. Issuing debt in the European market proved to be a win-win for the company and investors as Apple was able to lock in low rates while investor demand for safety was surging.
As an example, Apple raised roughly $1.35 billion through a two-part Swiss franc denominated debt sale. One bond, which is due to mature in 2024, will pay investors 0.28 percent while the second bond will pay a 0.74 percent yield and mature in 2030.
Related Link: Should Apple Release An iPhone 6C?
CNBC noted that the U.S. 10-year Treasury bond was paying around 1.98 percent when Apple tapped the Swiss debt market. However, at the same time, the German bund was yielding less than 0.50 percent.
Apple also raised 2.8 billion euros in a separate offering in part to bolster its share buyback program.
If Apple were to proceed with an offering through the Japanese debt market, the company can similarly take advantage of rock-bottom interest rates. Nikkei Asian Review stated that Apple has already began gauging potential demand for a yen-denominated bond and the proceeds could be used for shareholder rewards and possibly expand its Japanese operations.
The publication also added that it is likely Apple could set the interest rates on its bonds in Japan about one percentage point lower than it could in the U.S. The company would still benefit after factoring in converting the Japanese currency to American dollars.
Posted-In: Apple Debt Apple Europe Apple Japan Apple Swiss Franc German BundNews Rumors Tech Best of Benzinga
View Comments and Join the Discussion!