What's Next For Facebook And Oculus?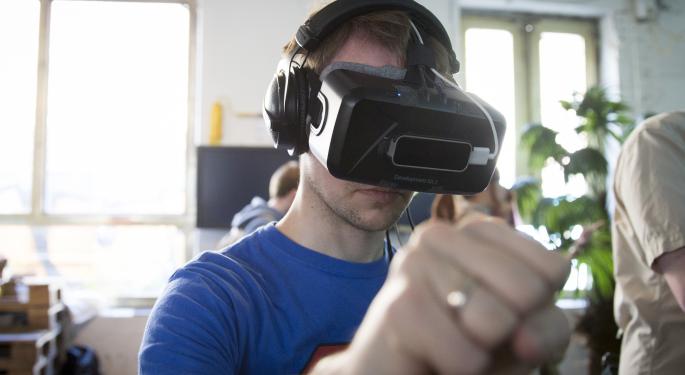 When Facebook Inc (NASDAQ: FB) announced a little more than a year ago that it had acquired Oculus VR, a leader in virtual reality technology, investors knew something big was on the way. While widespread use of virtual reality technology may still be several years in the future, Oculus and Facebook are building the foundation of what they believe will be the future of virtual social interaction.
Virtual Reality No Longer A Solitary Experience
Oculus is now focusing on eliminating the solo aspect of the virtual reality experience. Oculus Story Studio debuted a new movie entitled "Lost" this year at Sundance.
Engadget's Edgar Alvarez recently got to experience the newest version of the movie, "Lost Director's Cut." The revolutionary change in the virtual reality experience in "Lost Director's Cut" is the ability for multiple viewers to experience the virtual reality world together and even interact with each other.
Related Link: The Psychology Behind Facebook Depression (And How To Avoid It)
"In the case of 'Lost Director's Cut,' the person giving the demo and I were both fireflies in the movie; we could look back at each other or fly closer toward one another, all while a scene was taking place next to us. It's breathtaking and weird at the same time, and that's a good thing," Alvarez recently wrote.
Water-Cooler Moments
According to Max Planck, Story Studio's supervising technical director, their goal is to create a virtual reality adventure that multiple people can share together and experience "water-cooler moments."
Planck hopes that filmmakers can see that virtual reality can go far beyond the conventional idea of a one-person experience.
When Will We See The First Virtual Reality Blockbuster?
Unfortunately, Oculus has no plans to create its own virtual reality blockbusters any time soon. For now, the goal of Story Studio is to produce material that will demonstrate the capabilities of virtual reality and help it grow as a platform.
Posted-In: Oculus VRNews Rumors Tech Best of Benzinga
View Comments and Join the Discussion!