Move Over Diamonds, Bitcoin Is A Girl's Best Friend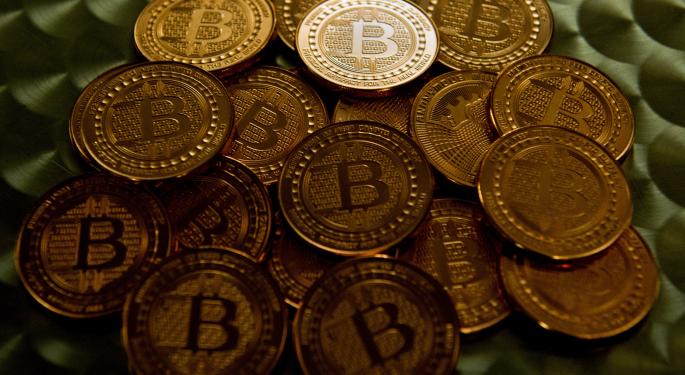 An engagement ring has long stood for the promise of everlasting love and partnership between two loving individuals, but the piece of jewelry has evolved to include an array of precious stones and intricate settings that often speak more about the purchaser's wealth than their commitment. However, there's a new kind of ring on the market which foregoes diamonds all together and demonstrates a couple's love, and wealth, in bitcoin.
Bitcoin Ring
The BTC ring gives bitcoin enthusiasts a way to forego diamonds and propose using the virtual currency. The ring displays an engraved QR code which can be scanned to show its corresponding value.
Related Link: Bitcoin Goes To The Movies
Show Me The Money
While many may see this as a brazen display of wealth, the company says that the value of any piece of jewelry inherently lies in knowing its monetary worth. The bitcoin ring skips that step by simply displaying the user's account information using a specific QR code that can be read using a special smartphone app.
Security
The ring also comes with a built in security feature that's theft-proof. While traditional diamonds can be stolen and sold by thieves, the bitcoin ring stores its value in the block chain. According to creator Seb Neumayer, that's a major reason to consider showing your fiancé some love with bitcoins. If the ring is lost, the value remains in the blockchain and can't be accessed while the ring itself is essentially worthless.
Easy To Make
A BTC ring could also be appealing to the impulsive groom, as it takes very little time and effort to design one. The ring can be printed with a 3D printer and designed using online software.
View Comments and Join the Discussion!
Posted-In: Bitcoin BTC ringCryptocurrency Forex Markets Tech Best of Benzinga