Weekly Tech Highlights: New iPhone Leaked, Tesla's Mobile Store And More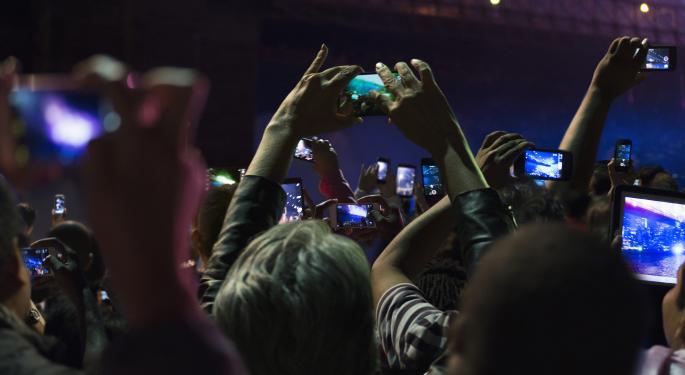 The approaching holiday weekend did not stop a plethora of hot stories from striking the world of technology.
iPhone 6C Leak?
Apple Inc. (NASDAQ: AAPL) isn't one to pre-announce a product, but the company published an intriguing photo this week to promote its new Lightning dock.
The photo appears to show a plastic iPhone with Touch ID. Apple's last plastic iPhone (the iPhone 5C) did not feature Touch ID, which was brand-new to the iPhone 5S. This instantly made investors wonder if the company had accidentally unveiled the iPhone 6C ahead of its official debut.
No one knows for sure, but Apple has replaced the questionable image with a more familiar iPhone.
Related Link: Google Gives Twitter The 'Broadest Audience Possible'
Tesla Is Bringing Its Stores To A City Near You
Tesla Motors Inc (NASDAQ: TSLA) has created a new mobile store concept that will bring the company's cars to consumers that normally do not have access to them. Global Equities Research analyst Trip Chowdhry thinks this is a brilliant idea.
"So if you look [how Tesla is] traveling [with a] mobile shop or container, it is phenomenal," Chowdhry told Benzinga. "Why? It takes the car to the doorstep of the community. Not only that [but] the people who are explaining the features of the car are the people who understand it very well. They are only singularly focused on Tesla. I think that's a remarkable way of going to the market."
GoPro Is Testing A Video Editing Platform
GoPro Inc (NASDAQ: GPRO) revealed that it is testing an alpha video editing platform.
"For GoPro to really realize its real potential -- and frankly to deliver its promise to consumers in the first place -- we have to continue to develop and evolve from begin a hardware capture business, to also deliver on the content managing/editing/sharing, which is all software base," GoPro founder and CEO Nick Woodman told attendees at the JP Morgan Global Technology, Media And Telecom Conference.
"I think it's going to be a bit like the iPod before and after iTunes...content is only worth its salt if you can share it. We're only getting our customers halfway there. There's a before and after effect, the after is going to be very exciting. One would expect that since GoPro is succeeding based on the quality and quantity of content our customers share...I would expect the whole GoPro movement and resulting business to scale accordingly."
Spotify's New Features...Bad News For Apple?
Spotify unveiled many new features this week, including video clips and a new system for matching music to the user's running pace. This could make it more difficult for Apple to launch its own streaming music service.
"Apple is going to have to pull a rabbit out of its hat if it's gonna try to compete with Spotify," Cody Willard, chairman of Scutify (a financial social network) and Futr (a futuristic messaging app), told Benzinga.
"Spotify's product and app and ease of use is Apple-esque already. There's no one anywhere that can compete with what Spotify is doing right now -- Apple included. I don't have much faith in Apple's ability to fix Beats."
Google's Photo Service Could Be Bad News For Google+
Google Inc (NASDAQ: GOOG) is reportedly working on a new photo service that will work without Google+. Needless to say, that may not be the best of news for Google's social network.
"Google+ is dead," Willard told Benzinga. "It has been dead. It was dead on arrival. I'm glad to see Google is admitting failure and figuring out how to make their user experiences better. Google+ was not making anybody's experience better."
Disclosure: At the time of this writing, Louis Bedigian had no position in the equities mentioned in this report.
Posted-In: Apple Google Google+ GoPro iPhone 6CNews Rumors Tech Best of Benzinga
View Comments and Join the Discussion!