Greek Deal Expected By The End Of The Week, Grexit Unlikely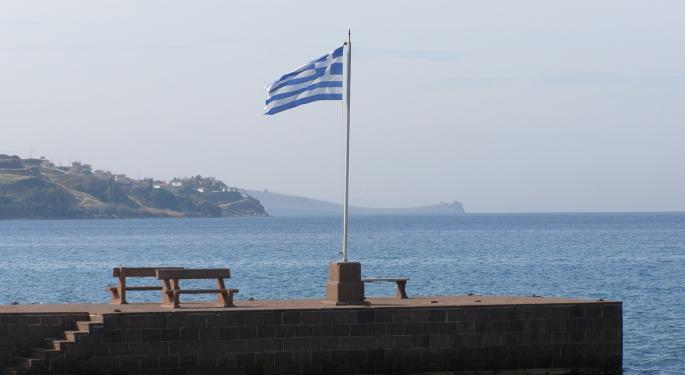 With many expecting Greece to run out of cash in a matter of weeks, the nation's finance minister Yanis Varoufakis commented that a deal to unlock some of the nation's bailout money was in the cards.
On Monday, Varoufakis told Star TV that he expects to come to an agreement with his EU counterparts sometime within the next week and that the nation's exit from the currency union is unlikely.
Dragging Talks
The negotiations have been locked in a stalemate for weeks as the International Monetary Fund and EU leaders claimed that Athens showed no real commitment to reform.
Greek Prime Minister Alexis Tsipras was elected on his promises to end the painful austerity measures the nation has carried out in order to meet the terms of its bailout, so he has been unwilling to compromise with his creditors, who say reform is necessary in order to ensure the nation's financial system gets back on track.
Related Link: UBS Outlines Grexit Scenarios
Who Won?
However, with a deal in sight, many are wondering which side gave in. Business Insider reported that a Greek publication has leaked details of the EU's proposed deal with Greece, and it looks like many of the reforms from the nation's bailout agreement have been dropped. Things like reforming Greece's pension system and carrying out a comprehensive labor market overhaul have been notably left out.
EU creditors won't be the only ones who've compromised if the deal is agreed to, though. The proposal still includes several unpopular austerity measures, like a property tax, that are sure to upset some members of Tsipras' Syriza party.
Image Credit: Public Domain
View Comments and Join the Discussion!
Posted-In: Alexis Tsipras Business Insider European Union Greece GrexitEurozone Top Stories Markets Best of Benzinga