Benzinga's M&A Chatter for Monday May 18, 2015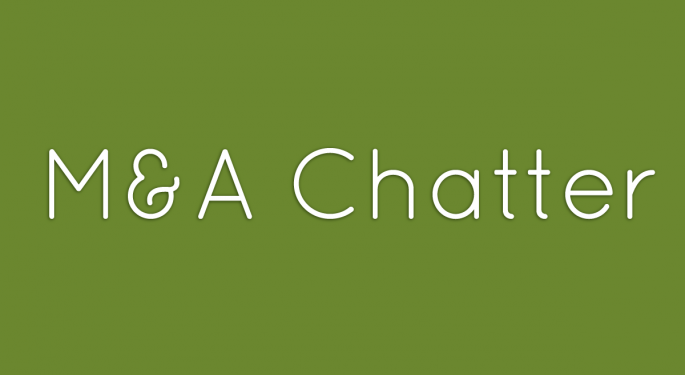 The following are the M&A deals, rumors and chatter circulating on Wall Street for Monday May 18, 2015:
Ascena Retail to Acquire ANN Inc. for $47/Share in Cash, Stock
The Deal:
Ascena Retail Group, Inc. (NASDAQ" ASNA) and ANN Inc. (NYSE: ANN) announced Monday, that Ascena will acquire ANN INC. for $37.34 in cash plus 0.68 of a share of Ascena common stock in exchange for each share of ANN common stock. That implies a price per share of $47.00, based upon the closing price of Ascena stock on May 15, 2015.
The transaction is expected to close in H2 of 2015.
Ann shares rose ~20% Monday, to close at $46.40.
CMGE Reports Prelim. Non-Binding Offer from Orient Hongtai Investment Mgmt Co. to Purchase Co. at $1.5357/Share in Cash, $21.50/ADS
The Offer:
China Mobile Games and Entertainment Group (NASDAQ: CMGE) announced Monday, that its Board of Directors has received a preliminary non-binding proposal from Orient Hongtai Investment Management Co., Ltd. to acquire all of the outstanding shares of the company, including ordinary shares represented by ADS's, for $1.5357 in cash per Class A or Class B ordinary share, or $21.5 in cash per ADS.
CMGE has retained Kirkland & Ellis to act as its U.S. counsel and expects to engage a financial advisor to assist it in its review and evaluation of the proposal.
CMGE shares gained $0.17 Monday, closing at $20.55.
Ming Yang Acquires Renergy for $149M
The Deal:
China Ming Yang Wind Power Group (NYSE: MY) announced Monday that it has entered into share purchase agreements to acquire a 99% stake in China Smart Electric Group Limited, which owns all of the equity interest in Wise Renergy Holdings Limited, which owns all of the equity interests in Tianjin REnergy Electrical Co., Ltd. and Tianjin Ruiyuan Electrical Co., Ltd.
Ming Yang will pay $149 million in cash and newly issued shares in Ming Yang.
Ming Yang closed Monday at $3.52, a gain of $0.03
Intel, Altera Resume Takeover Talks, According to Sources
The Rumor:
Shares of Altera Corp. (NASDAQ: ALTR) rose Monday, on a report from the NY Post, that it has resumed takeover talks with Intel Corporation (NASDAQ: INTC). Dow Jones reported back in March that the two companies had met. Altera reportedly rejected an offer from Intel of $54 per share.
Neither Altera nor Intel commented on the Post report.
Altera closed Monday at $46.93, a gain of 5.5%.
View Comments and Join the Discussion!