Apple's Entire Tech Ecosystem Poised For Growth, Says Carl Icahn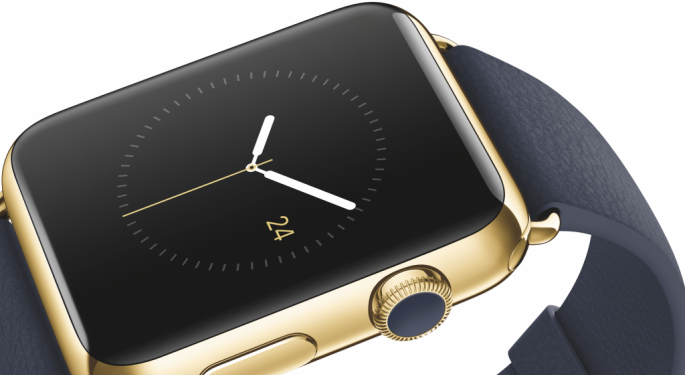 In an open letter to Apple Inc. (NASDAQ: AAPL) management, Carl Icahn suggested the company will earn $12.00 per share in fiscal 2016 – a figure that is above Wall Street's consensus estimates.
According to Icahn, Apple's entire ecosystem improvements (Apple Watch, Apple Pay, Homekit and HealthKit) will result in "modest" growth in iPhone revenues next year and represents a "tremendous" opportunity that on their own justifies an elevated valuation
In addition, a new iPhone is expected to be released in September 2016 which will continue the trend of converting new users from competing platforms. Internationally, a new iPhone will benefit from middle class growth in emerging markets.
Related Link: Carl Icahn: Apple Shares Now Worth $240
Icahn said he shares Tim Cook's comments that Apple's "best days are ahead of us" and that the company has "no shortage of growth opportunities to pursue." The investor noted that a "dramatic" increase in R&D spending should signal the company will "aggressively" pursue these new technologies.
Core Ecosystem Continues To Improve
According to Icahn, Apple's "core" ecosystem (iPhone, iPad, Mac, etc.) continues to improve and has transformed into a "mega-ecosystem."
Icahn is predicting "modest" iPhone revenue growth in fiscal 2016 of 2.3 percent (after 43 percent revenue growth in fiscal 2015), followed by revenue growth of 6.7 percent in fiscal 2017. The figures are driven by volume growth amidst flat average selling prices over the three-year period paced by switchers, new middle class users, ecosystem strength and innovation.
Related Link: Carl Icahn Thinks An Apple Car Represents A 'Change The World' Opportunity
Icahn also predicted that a new larger screen iPad (in conjunction with Apple's push into television) will result in 27.7 percent iPad revenue growth in fiscal 2016 and a further 14.2 percent growth in 2017. In terms of computers, Apple is expected to see its Mac continue gaining market share and experience 7.3 percent revenue growth in fiscal 2015, followed by 3.6 percent in fiscal 2016, and 4.6 percent in fiscal 2017.
Finally, Icahn is expecting the Apple Watch to "gain traction" and become a "success" with 10 million units sold during the second half of fiscal 2015 with an average selling price of $600. The Apple Watch will become a "must have" accessory for iPhone users and generate $6 billion in fiscal 2015, $22.5 billion in fiscal 2016, and $45 billion in fiscal 2017.
Posted-In: Apple Pay Apple Watch Carl Icahn Emerging Markets HealthKitNews Tech Trading Ideas Best of Benzinga
View Comments and Join the Discussion!