Southern Concepts CEO Mitch Roth On Why Investing In Fast Casual Makes Sense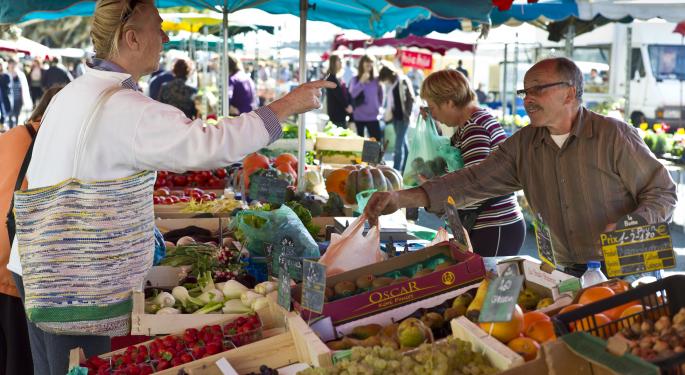 With some reports indicating fast casual growth is slowing down, investors are left to wonder whether the once hot sector has suddenly become lukewarm.
Southern Concepts Restaurant Group (OTC: RIBS) CEO, Mitch Roth told Benzinga why he thinks fast casual in general and his company's latest entry in the fast casual space in particular could be a very tasty investing move.
Related: Southern Concepts Restaurant Group Selects Roth Sheppard to Design New Southern Hospitality Fast Casual BBQ Concept
Benzinga: Given the less than enthusiastic news of late, why do you think fast casual is still a good investment?
Mitch Roth: The fast casual segment of the restaurant industry has been the fastest growing segment in each of the last five years. The question is, 'Why?'
Some people look at it at a macro-economic level and say, 'Well, obviously the economy has done really well, so maybe you're going to get some people out of QSR(because of that).'
We think the reason for that is really a shift in the consumer landscape. You've got a new generation of working Millennials, young professionals, specifically people in the age bracket of 24-39 years old, who grew up eating out.
They're really the first generation of Americans who grew up eating out at a rate of more than once a week.
BEN: What, specifically, drives Millennials to fast casual?
MR: I think this (increased dining out) created a little bit of a higher, maybe more stuffy attitude toward the food they eat.
In addition, they're getting married later in life and working more hours than any generation in American history.
Take all of those factors or variables, and you have a group of individuals with discretionary income, with very little time and a very high expectation for their food.
BEN: So, they want the convenience of fast food, but at an elevated level?
MR: Whether it's local sourcing, all natural food, they want it convenient. They want to be able to customize their meal, which is something that fast casual has offered from the get-go that traditional QSR has been a laggard in.
You look at many of the traditional QSRs now are trying to become more customizable. And that's a huge deal to this demographic (Millennials).
BEN: Your company, Southern Concepts, will launch its first fast casual barbecue restaurant in July. Why barbecue?
MR: We think there's an opportunity to really be a first mover in barbecue on a regional basis.
We are looking at, specifically, Colorado, Arizona and California, over the course of the next three to five years as the territory where we would like to grow our fast casual barbecue concept.
There's going to be a lot of demand for it. It's being done right now to a small degree in New York with the concept called Mighty Quinn's.
BEN: How will you brand your restaurants?
MR: Our brand name is Southern Hospitality and that will be the name of the new fast casual restaurant as well.
We currently have two full-service restaurants based on a concept originally created in New York a few years ago by Justin Timberlake, who grew up in Memphis, and has a real affinity for Memphis-style barbecue and restaurateur, Eytan Sugarman.
BEN: What will your fast casual barbecue experience look like?
MR: It's going to function very similar to a Chipotle. We're going to be using an assembly line, which is actually not unusual for a lot of, especially Texas-style barbecue, to go down a line and choose from meats, sides, garnishments, dressings, sauces and things like that.
However, we're going to be doing it in a much more modern way, a way that's more familiar to that millennial target audience.
That's why we retained Roth Sheppard, to help us with creating a modern model of what has been working in Texas for the last 65 or 70 years.
BEN: How will you stand apart from the competition?
MR: Our primary goal is to differentiate ourselves and re-define what quick service or fast casual barbecue can be.
Part of that is going to be in our messaging and in our branding. We don't want to focus only on the traditional male barbecue consumer.
We look at the fast casual market and realize that 49 percent of fast casual consumers are female ages 24 to39. That's a huge percentage of a very small demographic that we need to be catering to.
BEN: So, how will you cater to this expanded demographic?
MR: There's an opportunity, with barbecue, to eat a very substantial meal and stay away from any of those problematic nutritional items.
It's all about convenience, a very high quality and standard of food quality, using all natural meats, and trying to provide the highest quality product possible and reach the broadest audience that we can.
BEN: What about the future of fast casual – not just with fast casual barbecue?
MR: I think one thing you're going to see over the course of the next five years is many of the traditional fast food guys beginning to acquire fast casual brands.
You're already starting to see it. Jack in the Box acquired Qdoba. Qdoba is their primary growth vehicle at this point.
I think at some point, you're going to see companies like McDonald's who did it when they made a huge investment in Chipotle, and they made a bunch of money on that transaction.
I think over the course of the next five years, fast casual will continue to outpace traditional QSR and those guys are going to start looking to acquire fast casual brands that they can use their infrastructure and processes and purchasing power and whatnot to refine and grow even further.
Related: Yum Vs. Chipotle: What's Wall Street Saying?
BEN: So, where does that put Southern Hospitality in the next few years?
MR: We've got a small little public company. I think that you think about our potential to grow relative to other fast casual companies. I think the market has already voted in favor of fast casual companies.
I think there's a lot more potential capital appreciation investing in a smaller company today if you think that fast casual is the QSR of the future and you think we have a viable concept.
At the time of this writing, Jim Probasco had no position in any mentioned securities.
View Comments and Join the Discussion!
Posted-In: Chipotle fast casual jack in the box Justin Timberlake mcdonalds millennialsExclusives Interview Best of Benzinga