Will Greece's Financial Woes Ever End?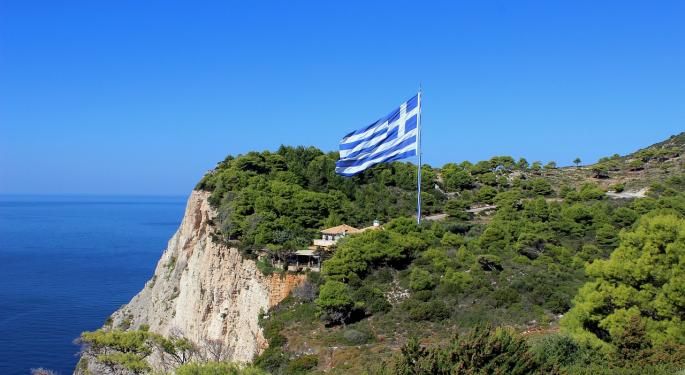 Negotiations between Athens and its creditors continued to drag on this week, despite what most believed would be a bank-breaking loan repayment coming due on Tuesday.
Somehow, Greece continued to scrape by without defaulting, despite having what most expect is a nearly empty vault. Comments from both sides have indicated that a resolution is nowhere in sight, as they remain at odds regarding several fundamental aspects of Greece's bailout agreement.
Out Of Cash?
On Tuesday, Greece was able to repay its €750 million International Monetary Fund loan, but many believe the tide is quickly rising as more payments loom on the horizon.
This week's payment was meant to put leftist leader, Prime Minister Alexis Tsipras, in the difficult position of choosing between paying the nation's wages and pensions or repaying the loan, but the Greek prime minister avoided that conundrum by using Greece's own reserve funds at the IMF to make the payment.
Related Link: No Bailout Agreement Expected For Greece, Despite Looming IMF Payments
It remains to be seen whether or not Athens has enough cash in its reserve to pay public sector wages at the end of the month, and the nation is almost surely short the €1.5 billion needed to repay further loans in June.
What Now?
The increasingly dire financial situation in Greece is likely to help move negotiations for its bailout aid forward; however, so far it seems that Tsipras is unwilling to bend to the EU's will, despite his lack of funding.
Tsipras was elected on promises to reverse austerity cuts and get a better bailout deal, and he has remained adamant in his demands for more budgetary freedom. Despite that, Greek officials have said they are optimistic about reaching an agreement to release the next installment of bailout funding by the end of May.
Related Link: UBS Outlines Grexit Scenarios
Then It's Over?
Even if Greek officials and EU policymakers come to an agreement by the end of May, Greece won't be out of hot water.
The nation's bailout program expires at the end of June, meaning that Tsipras and the Syriza government will have to work with EU officials to extend the nation's funding again, bringing on an entirely new round of negotiations.

Image Credit: Public Domain
Posted-In: Alexis Tsipras Greece International Monetary FundEurozone Politics Top Stories Markets General Best of Benzinga
View Comments and Join the Discussion!