No Bailout Agreement Expected For Greece, Despite Looming IMF Payments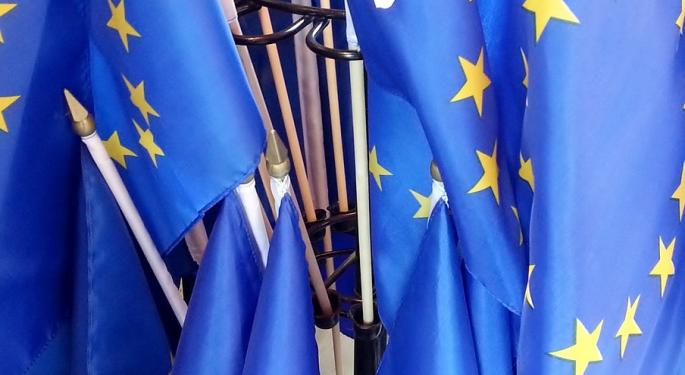 On Monday afternoon, eurozone finance ministers are set to convene in order to discuss the reform proposals submitted by Athens. The proposals cover options to receive another installment of bailout funding.
The ongoing negotiations over Greece's financial state have dragged on for months and are expected to continue, despite quickly approaching loan repayment deadlines.
Running Out Of Cash
Many saw May 12 as doomsday for Greece, as the nation is due to repay €750 million to the International Monetary Fund, something most believed that Athens could not afford.
However, despite rumors that Greek officials would be forced to choose between paying salaries and pensions and meeting its obligation to the IMF, a senior eurozone official told Reuters that the nation is likely to squeak by.
The official said Athens is capable of repaying the IMF without cutting off its other financial responsibilities.
Related Link: UBS Outlines Grexit Scenarios
For How Long?
While Greece's vault may not run dry on May 12, analysts are all but certain that it will eventually reach the end of its money supply if the nation can't come to an agreement with its creditors.
So far, the two sides have been unable to agree with EU officials, saying that Athens has not demonstrated a real commitment to reform. Last week, Greek finance minister Yanis Varoufakis distributed a 36-page document outlining the nation's future plans. The proposal was rebuffed by several of his EU peers.
Many believe Greece is unwilling to face its growing problems and that the reforms are too lenient and often quite vague.
Related Link: Former Greek P.M.: "What Happens To Greece Is A Precedent For What Could Happen To Other Countries"
What's Next
Monday's discussion isn't expected to yield any resolution, though most are expecting to hear optimistic remarks from all parties involved.
If the two sides can't come to an agreement before Greece runs out of cash, the nation could be forced to leave the eurozone. However, that scenario is very unlikely, as all of the bloc's policymakers have expressed interest in keeping Greece in the eurozone.

Image Credit: Public Domain
View Comments and Join the Discussion!
Posted-In: Greece Grexit International Monetary FundEurozone Politics Top Stories Markets General Best of Benzinga