Estimated $800 Million Demand For Tesla's New Batteries In One Week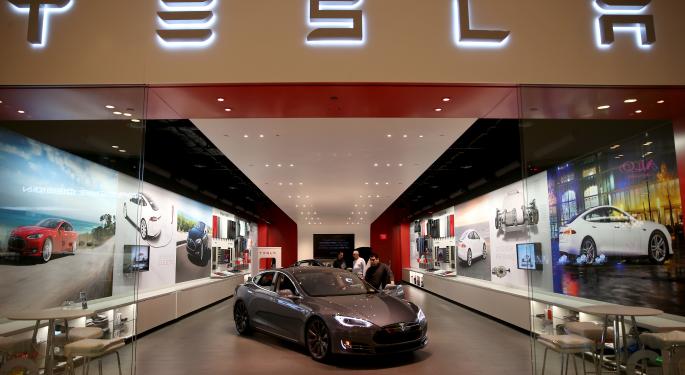 According to Bloomberg estimates, Tesla Motors Inc (NASDAQ: TSLA)'s new batteries, launched just one week ago, have already generated $800 million in potential revenue for the company.
"Crazy Off-The-Hook" demand
In Wednesday's earnings presentation, Tesla CEO Elon Musk called initial demand for the new batteries "crazy off-the-hook," and continued by adding that, "the sheer volume of demand here is just staggering."
If demand for the battery continues at its current pace, the 5-million-square-foot battery factory Tesla is currently constructing may be over capacity as soon as it opens.
Related Link: Was Tesla's Powerwall Battery Factored Into The Stock Price?
Reservations Are Not Sales
While Bloomberg's estimates put a dollar figure on early battery reservations, the $800 million figure may be an overly optimistic assumption.
Tesla's new Powerwall home batteries can currently be reserved online, years in advance, with no money down and no commitment to buy. The batteries cost more than $3,000 each. It's possible that at least a portion of the early demand for the batteries will subside once the excitement dies down and the reality of $3,000-plus bills start kicking in.
Difficult Valuations
Tesla admits that, at current prices, it is making little or no profit off of the new batteries. According to Musk, gross margins on the batteries are currently low, but Tesla projects they will eventually reach about 20 percent once the new factory is up and running.
For Wall Street analysts, the uncertainty of the new business creates a difficult valuation problem. Analysts at Baird and Morgan Stanley don't include the battery business in their Tesla valuation at all at this point. JPMorgan Chase places a $1.9 billion valuation on the new business, but admits that "it is still quite early to estimate with a good degree of accuracy," Bloomberg noted.
Posted-In: Bloomberg Elon Musk PowerwallNews Tech Best of Benzinga
View Comments and Join the Discussion!