Benzinga's M&A Chatter for Wednesday May 6, 2015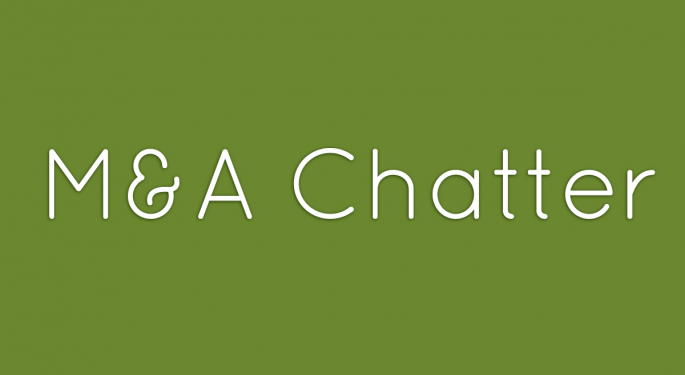 The following are the M&A deals, rumors and chatter circulating on Wall Street for Wednesday May 6, 2015:
Alexion To Acquire Synageva for $8.4B
The Deal:
Alexion Pharmaceuticals, Inc. (NASDAQ: ALXN) and Synageva BioPharma Corp. (NASDAQ: GEVA) announced Wednesday, that Alexion will acquire Synageva for $115 in cash and 0.6581 Alexion shares per share of Synageva. The implied price per share $230 based on the nine day volume-weighted average closing price of Alexion stock through May 5, 2015.
The deal is expected to close mid-2015.
Synageva shares rose 112% Wednesday, closing at $203.39, while Alexion shares fell 8% to close at $155.01.
PlasmaTech Biopharmaceuticals Announces Agreement to Acquire Abeona Therapeutics
The Deal:
PlasmaTech Biopharmaceuticals, Inc. (NASDAQ: PTBI) announced Wednesday, that it has entered into a definitive agreement to acquire Abeona Therapeutics for 3,979,761 common shares upon closing, plus up to an additional $9 million in performance milestones, in common stock or cash, at company's option.
The deal is expected to close in Q2 of 2015.
PlasmaTech Biopharmaceuticals shares gained 44% Wednesday, closing at $8.60.
Arch Could Bid for Axis
The Rumor:
Shares of Axis Capital (NYSE: AXS) spiked higher Wednesday, on a report from Insurance Insider reported that Arch could bid for Axis. On April 14, Axis reiterated its commitment to its proposed merger with PartnerRe. The two companies announced an $11 billion merger agreement on January 25.
Axis Capital shares rose ~2.5% Wednesday, closing at $53.40, while PartnerRE shares gained $1.14 to close at $128.44.
Western Union Says Not in Talks to Acquire MoneyGram
The Denial:
The Western Union Company (NYSE: WU) issued the following statement due to the high level of market activity in the stock Wednesday: "Western Union states that current news reports indicating that our company is in discussions to acquire MoneyGram International, Inc. (NYSE: MGI) are not accurate." Bloomberg had reported on Tuesday, that Western Union was in talks to acquire Moneygram.
Western Union shares rose more than 4% Wednesday to close at $21.85. MoneyGram shares rose 21% to close at $9.47.
Golden Gate Capital Said to be in Talks to Acquire Ann, Inc. in ~$2B Deal
The Denial:
Shares of Ann, Inc. (NYSE: ANN) spiked higher after-hours Wednesday, on a report from Reuters that Golden Gate Capital was in advanced talks to acquire the women's apparel retailer in a deal that could be worth around $2 billion. Sources say a deal could be done in the low $40's per share.
Spokespersons for Ann, Inc. and Golden Gate Capital declined comment on the rumor.
Ann shares closed at $37.36 Wednesday and traded as high as $43.00 after-hours.
View Comments and Join the Discussion!