IPO Outlook: Down-Home Cookin', Fast-Casual Bojangles' Sizzles Investors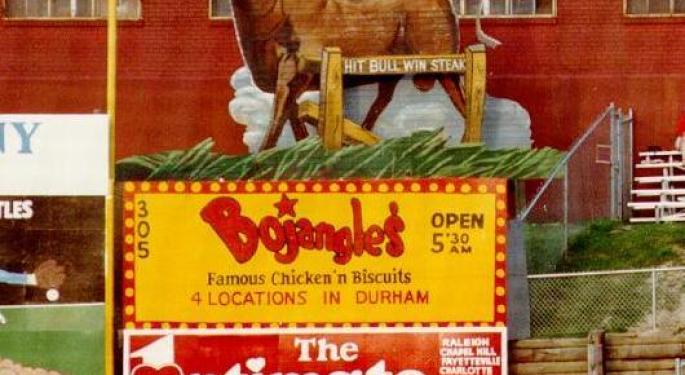 To say it's a jam-packed week for the IPO market is an understatement. With twelve IPOs scheduled – ranging from biotechs, REITs, MLPs and a hot restaurant – investors have quite a menu to choose from.
Southeastern restaurant chain Bojangles' Restaurants, Inc. (NASDAQ: BOJA) plans to raise $122 million through 6.3 million shares expecting to price between $15 and $17 on Friday.
Bojangles' will trade on the NASDAQ under the ticker BOJA.
It's Bo Time
Charlotte, North Carolina-based Bojangles' joins the other fast-casual restaurants that recently tapped the public markets due to both consumer and investor strong enthusiasm.
The company started in 1977 with a menu centered on "chicken 'n biscuits" and since has remained relatively unchanged. To put it in context, Bojangles's is the chicken joint to the Southern realm eateries what Shake Shack Inc (NYSE: SHAK) is to the burger space in metropolitan areas.
Related Link: Bojangles' Announces Filing For $100M IPO
What Makes The 'Bo Difference'
The company has what it calls the "Bo Difference," allowing it to grow profits and create a loyal customer base. Its self-described high quality, tasty Southern food is characterized by breakfast biscuits, never frozen bone-in fried chicken, dirty rice, sandwiches, wraps, unique fixin's, legendary iced tea and its Bo Smart menu.
Bojangles' five meal offerings include breakfast, lunch, snack, dinner and after dinner. Its decision to serve breakfast all day, every day, gives it an edge over its competitors that typically serve breakfast for a limited time or start service with lunch. This edge has paid off as Bojangles' says in its S-1 that it generates 38 percent of its revenue from 11 a.m. to closing (typically 11 p.m.), or $650,000 on average just from breakfast alone.
The other 62 percent of revenue comes from the menu's other four meal times. The company attributes its success to its intense focus on delivering value to its customers as it uses only the freshest, highest quality ingredients, prepares food mostly from scratch using ovens, griddles or stove-tops and never microwaves. What customers love most is that Bojangles' delivers its craveable food in a fast, convenient manner at an average bill of $6.68.
Related Link: Colucid Pharmaceuticals Expects 5.5M Share IPO To Price @$10.00/Share
Together with the company's great food, its management team has over 380 years of experience in the restaurant industry. Bojangles' president and CEO, Clifton Rutledge, was previously with Whataburger Restaurants. The management team is driven to truly put a value on its employees and is as committed to their success as much as the bottom line.
Financials
Bojangles' experienced strong growth in the last few years. Revenue grew 36 percent from $299.9 million in 2012 to $406.8 million in 2014. The company's system-wide and company-operated restaurant count grew at a CAGR of 7 percent and 9 percent from 2011 to 2014.
Currently, the company has 635 restaurants that consist of 258 company-operated and 377 franchised restaurants. First quarter revenue for March 2015 is estimated to be between $113.8 million and $114.6 million, an increase of 18.3 to 19.2 percent compared to $96.2 million for March 30, 2014. The company's bottom line increased 241 percent from $7.66 million in 2012 to $26.1 million in 2014.
Operating cash flow increased 26 percent from $32.9 million in 2012 to $41.6 million to 2014 mainly due to the increase in company-operated restaurants, franchise royalty revenues and an increase in restaurant sales.
In 2011, private equity firm Advent International acquired a 77.9 percent ownership stake in Bojangles' outstanding stock. Advent has invested since 1984 in 290 companies worldwide and has $34 billion in AUM. The company is committed to partnering with management teams to deliver sustained revenue and earnings growth for its portfolio companies.
Fast-Casual IPO Mania
Over the last year, the influx of restaurants in the fast-casual space have experienced large positive first day gains. Consumers more than ever care about healthy, premium food delivered with speed and convenience at an affordable price. Bojangles' is doing just that as it has carved its niche in the Southern cuisine space.
Shake Shack, which features premium burgers, fries and shakes, had its record IPO Friday, January 30 of this year. It priced at $21, closed at $45.76 and had a first day pop at 118.6 percent. Mexican cuisine restaurant El Pollo LoCo Holdings Inc (NASDAQ: LOCO)'s shares surged 60 percent with its July 2014 IPO. The stock opened at $19 on the NASDAQ, up from its pricing at $15, and raised $107 million.
Bojangles' currently has 255 company-operated restaurants and 377 franchise-operated restaurants. The domestic restaurants are located throughout the Southeast in ten states, including North Carolina, Georgia, Florida and Pennsylvania. Three restaurants are located in Honduras. Even with Bojangles' consistent growth, the company still believes that it is in the early stages of its expansion.
It plans to grow at a consistent 7 percent to 8 percent annually and further take its foothold in its existing markets of ten states to more than 1,400 locations. Across the U.S., Bojangles' believes its total restaurant potential is more than 3,500 locations.
Related Link: Panrea Bread Becomes First National Restaurant Company To Share List Of Unacceptable Ingredients
Looking Forward And Pricing Info
Considering the company's consistent growth, profitability and satisfied customer base, Bojangles' IPO looks poised to come out of the gate strong. Fast-casual restaurant IPOs have been a hot space recently that has produced great first-day returns for investors as well as long-term gains for some.
All proceeds from this offering will go the selling stockholders, which in this case is Advent International.
Bojangles' plans to issue 6.3 million shares on the NASDAQ under the ticker BOJA on Friday, May 8. The price range for the shares will be in the $15 to $17 range. If demand is as hot as Shake Shack's was, the public can expect to see more shares allotted and a higher opening price. The lead underwriters include Bank of America Merrill Lynch, Wells Fargo and Jeffries.
Related Link: Shares Of OpGen Open For Trade At $5.20, IPO Priced At $6/Unit
Other Offerings
Wednesday, May 6
Thursday, May 7
Friday, May 8

Image Credit: Public Domain
Posted-In: Advent International Clifton Rutledge WhataburgerRestaurants IPOs Best of Benzinga
View Comments and Join the Discussion!