Facebook Working On An Automated Assistant With Common Sense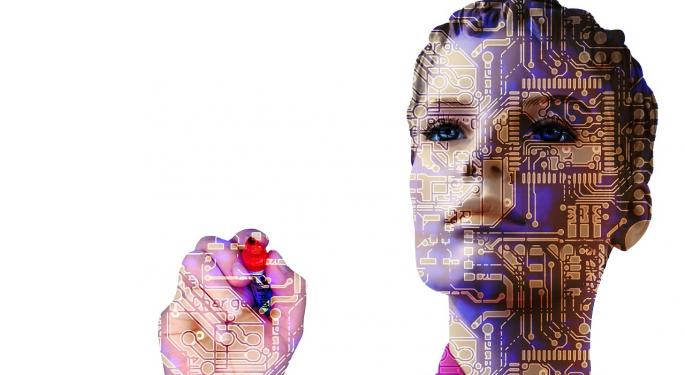 Automated assistants that respond to smartphone users' voice commands have been around for years, with developers improving the services constantly in order to make their offerings "smarter."
These intelligent assistants are able to learn from their users by remembering search options and adapting to their pronunciation, leading many to believe that the tech field is bordering on developing machines with the capacity to make decisions closely mimicking that of a human.
The Smartest Machine
Apple Inc. (NASDAQ: AAPL)'s Siri, Microsoft Corporation (NASDAQ: MSFT)'s Cortana and Amazon.com, Inc. (NASDAQ: AMZN)'s Echo have been battling it out to create the automated assistant that makes the most helpful companion.
While each service boasts its own benefits, they all lack something that Facebook Inc (NASDAQ: FB) says it will be able to provide – advanced artificial intelligence.
Related Link: 5 Growth Levers Facebook Is Leaning On
Facebook Sets Its Sights On Common Sense
Facebook's artificial intelligence research department says it is working on a new brand of assistant that will have common sense, rather than a scripted list of responses.
The company says it is developing an assistant that can recognize activities in photos and videos and understand emotions.
Machine Learning
Yann LeCun, Facebook's director of artificial intelligence research, told the Wall Street Journal that the company's research centers on "machine learning," a way of providing a computer with a high volume of data and mathematical algorithms that will help it correlate things like emotions and human interactions.
Because Facebook's social network is so far reaching, the company has a huge volume of data with which to develop this type of artificial intelligence.
Still A Pipe Dream
While LeCun is optimistic about Facebook's progress so far, the company isn't expected to roll out this type of offering any time soon.
However, if the project is successful, it will represent a massive step forward for the tech community.

Image Credit: Public Domain
Posted-In: Advanced AI AI Cortana Echo SIRITop Stories Markets Tech Best of Benzinga
View Comments and Join the Discussion!