Tesla, Elon Musk Introduce The Home Battery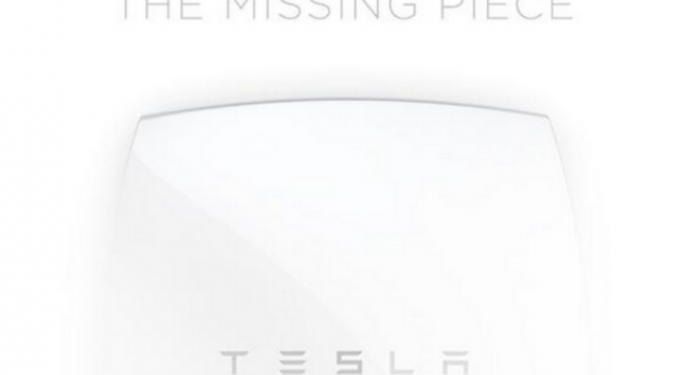 Tesla Motors Inc (NASDAQ: TSLA) is hosting an event this evening to unveil a new product line. The presentation is expected to begin at 8:00 p.m. PT / 11:00 p.m. ET; below is a live blog of the event.
12:37:20 a.m.: The event has ended.
12:36:47 a.m.: Powerpack and Gigafactory will continue to use Tesla's open source policy.
12:35:50 a.m.: Musk: What we're designing in the Gigafactory is (essentially) a giant machine.
12:34:23 a.m.: 900 million Powerpacks could be used to power every home in the world. You would need 2 billion to power everything else.
12:31:42 a.m.: Battery will start shipping in three to four months. Ramp up will be slow initially.
12:30:21 a.m.: Musk: "You can order the Powerwall right now on the Tesla website."
12:28:29 a.m.: Solar panels + Powerwall will allow users to go completely off the grid, Musk said. The batteries are designed to be stacked. Up to nine Powerwalls can be combined.
12:27:50 a.m.: Musk said that the battery "looks like a beautiful sculpture on the wall." It will be sold in multiple colors.
12:27:11 a.m.: The Powerwall battery looks much smaller and smoother than the one seen in pictures ahead of th eevent.
12:26:41 a.m.: Musk: The problem with existing solar batteries is that they suck.
12:25:01 a.m.: Musk said that a very small amount of batteries are needed to transfer from fossil fuels to solar energy.
12:24:39 a.m.: Musk: It's important to smooth out energy generation and retain enough to use at night.
12:23:27 a.m.: Musk said that very little land is needed to get the US off fossil fuels.
12:21:16 a.m.: Elon Musk thinks Powerwall is a "fairly obvious" solution. Said the solution involves two parts. The first is the sun.
12:20:23 a.m.: The event has finally begun.
12:16:14 a.m.: Tesla fans are getting very antsy:
I saw that this Tesla event started at 8pm earlier...then 8:30pm...now it's 9:15pm and it still hasn't started? @elonmusk

— jammasternate (@jammasternate) May 1, 2015
12:12:54 a.m.: For the record, all of the information Benzinga has received thus far has come from Twitter (as noted below) or the official press kit. The event itself has not started yet.
12:10:23 a.m.: Tesla has also partnered with SolarEdge, a global player in the PV inverter market. The two firms partnered "for the joint development of a PV storage and backup power solution for the worldwide residential solar market."
12:09:37 a.m.: Tesla is collaborating with TreeHouse (a sustainable home improvement store) to sell Powerwall.
12:07:40 a.m.: Tesla also said that deliveries will begin in late summer.
12:06:21 a.m.: Tesla will charge installers $3,500 for the 10kWh version and $3,000 for the 7kWh iteration. This price excludes inverter and installation.
12:04:08 a.m.: Additional insights from the press kit: "The Powerwall is available in 10kWh, optimized for backup applications or 7kWh optimized for daily use applications. Both can be connected with solar or grid and both can provide backup power."
12:01:42 a.m.: The press kit also revealed that the battery can provide a few different benefits, including:
"Load shifting – The battery can provide financial savings to its owner by charging during low rate periods when demand for electricity is lower and discharging during more expensive rate periods when electricity demand is higher."

"Increasing self-consumption of solar power generation – The battery can store surplus solar energy not used at the time it is generated and use that energy later when the sun is not shining."

"Back-up power – Assures power in the event of an outage."
11:59:19 p.m.: According to the press kit, "The Tesla Powerwall is a rechargeable lithium-ion battery designed to store energy at a residential level for load shifting, backup power and self-consumption of solar power generation."
11:58:10 p.m.: The press kit is out, but the presentation hasn't started yet.
11:50:24 p.m.: Interesting news via Twitter:
#PowerWall #TeslaEnergy Tesla's selling price to installers is $3500 for 10kWh and $3000 for 7kWh. Deliveries begin in late Summer.

— Sanjay Sheth (@sastools) May 1, 2015
11:47:18 p.m.: This seems to be inevitable:
Tomorrow's headlines "Tesla was late getting going, but so was everyone else in Batteries" $TSLA #TeslaLive

— The Stock Dok (@TheStockDok) May 1, 2015
11:45:50 p.m.: Is Elon Musk ready to channel his inner Steve Jobs?
Watching the Tesla Live announcement. Hoping this will be like an Apple one with all of their excitement and energy #TeslaLive #TeslaEnergy

— Jarrod Bradford (@jarrodbradford) May 1, 2015
11:43:15 p.m.: People are starting to get antsy.
The big Tesla battery unveil is 37 minutes late, and counting ... what's going on?

— Leslie Hook (@lesliehook) May 1, 2015
11:40:02 p.m.: Twitter users are overwhelmed with excitement -- and light humor.
If all else fails, @TeslaMotors @elonmusk can call it the Super Duper Charger

— Judge Dan (@JudgeDan48) May 1, 2015
11:32:46 p.m.: Camera crews appear to be primed and ready to go.
11:31:21 p.m.: Popcorn? Why didn't I think of that!?
Got my wine and popcorn. Ready for #TheMissingPiece. Wow me, @TeslaMotors @elonmusk

— Bethany Ruhe (@BethanyAtDirect) May 1, 2015
11:25:05 p.m.: It appears that the event is getting ready to begin.
11:19:08 p.m.: This likely has very little to do with the 30-minute delay for tonight's event:
Me: Elon Musk's announcement's in 30 minutes. Tanya: Surprised it's so late. Me: He's one temper tantrum from being a Bond villain. It's ok.

— Andrew Stanton (@GeekStanton) May 1, 2015
11:15:51 p.m.: Tesla won't talk about earnings until next week, but the company recently announced that it delivered 10,030 vehicles in Q1.
11:11:24 p.m.: Tesla co-founder Elon Musk's most recent tweet was a tease about tonight's event:
For the future to be good, we need electric transport, solar power and (of course) ... pic.twitter.com/8mwVWukQDL

— Elon Musk (@elonmusk) April 29, 2015
11:09:39 p.m.: Shares of Tesla are up less than one percent in after hours trading.
11:06:27 p.m.: Here's a way to kill some time while you wait for the event to begin.
What surprises will unfold at Tesla's announcement tonight? Here's your @ElonMusk bingo card http://t.co/d9m7C6Tes6 pic.twitter.com/u0SQUeQr0M

— Bloomberg Business (@business) April 30, 2015
11:02:55 p.m.:Tesla's website now indicates that the event is starting at 8:30 p.m. PT / 11:30 p.m. ET.
10:59:22 p.m.: Battery confirmed? The press kit came in this:
Lotta Teslas at this Tesla event. Also this press kit in a Tesla battery cell. pic.twitter.com/kD737XQ2Zu

— Farhad Manjoo (@fmanjoo) May 1, 2015
10:55:01 p.m.: Some people are really big fans.
Chef Jon Favreau brought the whole family to the Tesla event.

— Mark Gurman (@markgurman) May 1, 2015
10:51:42 p.m.: Tesla also announced that it will host its annual stockholder meeting on Tuesday, June 9 at 2:00 p.m. PT / 5:00 p.m. ET.
10:48:12 p.m.: Tesla recently announced that it will announce its first quarter results on Wednesday May 6 after the close. A conference call will follow at 2:30 p.m. PT / 5:30 p.m. ET.
Related Links
View Comments and Join the Discussion!
Posted-In: Gigafactory Tesla tesla motorsNews Events Tech Best of Benzinga