Marijuana A Booming Business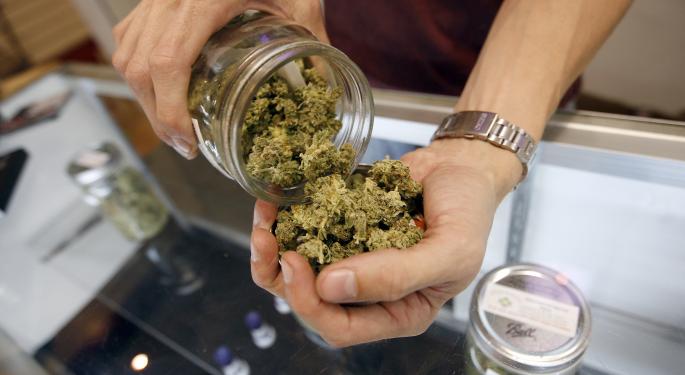 Despite the fact that marijuana remains classified as an illegal substance in the eyes of the U.S. federal government, the drug has been rising in popularity as its usage for medicinal and recreational purposes becomes more widely acceptable.
Studies showing that marijuana can be an effective treatment for a range of ailments have pushed 23 states and the District of Colombia to legalize medicinal marijuana use and created a booming industry for pot-related products.
Now, lawmakers in Washington are fighting over whether or not the drug's Schedule I classification should be amended as industry experts predict that the push for legal pot will continue growing.
A Booming Market
A market research report by IBISWorld showed that the marijuana industry is projected to grow 31.8 percent annually through 2020 as more and more companies emerge with cannabis-laced products.
Much of that growth can be attributed to a more mainstream view of marijuana use as a growing number people begin using the drug for things like pain management and anxiety.
Uncertain Future
However, despite the impressive projected growth, the report noted that the industry is still wracked with uncertainty due to conflicting state and federal laws.
While the Obama administration has said that the federal government will not interfere with states' choice to legalize the drug, many marijuana business owners worry that 2016's change of leadership could bring about new challenges for their operations.
Related Link: GW Pharmaceuticals Raising Cash As Pipeline Of Cannabis-Based Drugs Grows
Lots Of Cash And No Where To Put It
Not only do the current federal laws create a murky future for pot-based businesses, they also create major obstacles for growth in the present.
Because most banks are bound by federal regulations, many marijuana businesses are unable to open bank accounts or set up a payroll for their employees.
Obtaining a loan for a business that deals in the marijuana trade is also difficult, something that could stifle innovation within the sector until the federal laws are amended.
Posted-In: IBISWorld marijuana marijuana reformPolitics Top Stories General Best of Benzinga
View Comments and Join the Discussion!