First Solar's Huge Apple Project: A Glimpse Into The Future?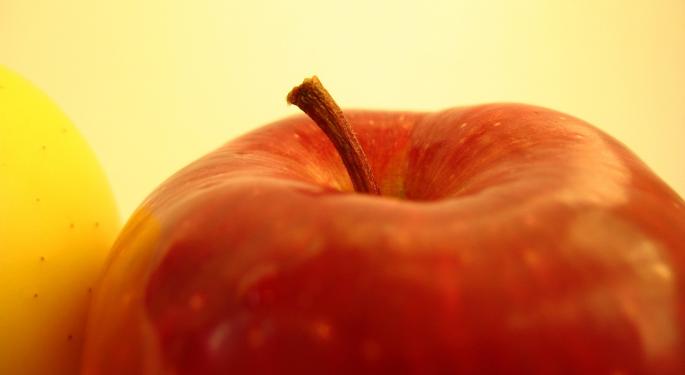 First Solar, Inc. (NASDAQ: FSLR)'s Marc van Gerven wrote that the Apple Inc. (NASDAQ: AAPL) commitment to 100 percent solar announced earlier this year will "propel the commercial market into a new dimension."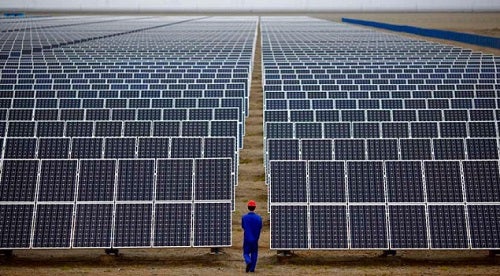 Source: Fortune.com - FSLR Monterey California Flats
Related Link: Checking Out Chipotle's Apple Watch App
This unprecedented $850 million project is the largest solar power supply contract signed by an enterprise customer and represents over 12 percent of the entire commercial and industrial (C&I) capacity installed across the U.S. in 2014.
Here are some of the key takeaways from van Gerven's op-ed piece recently published by greentechmedia.com (GTM):
A Road Less Traveled
Although C&I solar projects have been commercially viable in many regions of the U.S., "It represents the smallest application when compared to residential and utility-scale solar systems," stated van Gerven. In fact, installations have been stagnant for the past three years, and surprisingly the MW total added for 2014 was even less than 2012.
Why So Slow To Grow?
The global financial meltdown in 2008 caused corporate decision makers to focus on core business issues and effectively put a freeze on corporate spending.
According to van Gerven, "When companies were fighting for survival, it was not the time to sign new long-term solar PPAs. Balance sheets did not justify such investments, and banks would have not approved loans for solar procurement."
Marketing Wrong Product Mix?
The solar industry may have overemphasized marketing rooftop PV panels to C&I customers. There just isn't enough rooftop area available on most buildings as compared to the electric load needed to be offset in order to make a project attractive to decision makers.
"Large-scale solar installations, located off-premises, provide some clear advantages over commercial rooftop solar," van Gerven said.
Large Scale Solar Projects
"First Solar's ground-mounted California Flats power plant, with a total capacity of 280 megawatts, covers 2,900 acres of land," van Gerven continued. "Electricity generated by the power plant will be shared between Apple and California utility Pacific Gas & Electric."
The 130 MWs of solar power that Apple requires to offset its entire corporate power profile is similar to a utility scale project.
These huge "utility-scale solar power plants" have a much better cost structure than typical on-site C&I systems.
Related Link: Cowen Previews Apple Earnings, Sees Upside In China
Green Corporate Image
In the case of Apple, the company was looking to offset its total power consumption, including: retail stores, data centers and corporate offices with renewable energy.
Apple's rationale to customers and shareholders was that "an energy-efficient facility is good, but a 100 percent renewable energy facility is better."
According to the letter, Apple was able to achieve "30 percent in 2010 and 94 percent in 2013, the addition of electricity from California Flats will bring Apple to 100 percent."
Corporate Budgets
Apple entered into a 25-year power-purchase agreement (PPA) from First Solar's 130-megawatt Monterey California Flats solar plant.
Apple CEO Tim Cook stated, "We expect to have very significant savings, because we have a fixed price for renewable energy, and there is quite a difference between that price and the price of brown energy."
Having a long-term, guaranteed price for energy becomes a hedge against future fossil fuel price increases.
Investor Takeaway
First Solar is hoping that an "Apple Factor" will help accelerate C&I solar adoption by other enterprise customers and government agencies.

Image Credit: Public Domain
Posted-In: GreenTechMedia.com Marc van GervenContracts Topics Top Stories Tech General Real Estate Best of Benzinga
View Comments and Join the Discussion!