Meet Porch.com: The Startup Disrupting The Home Improvement Space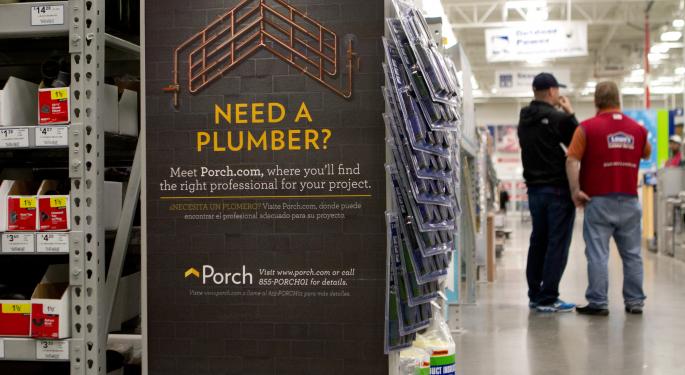 The conventional wisdom, "if you can't run with the big dogs, you'd better stay on the porch," has recently been turned on its head by Matt Ehrlichman CEO of Seattle-based Porch.
Homeowners, contractors and real estate agents are all part of a real estate eco-system being co-created on Porch.com's technology platform -- and yes, there is a big dog in this mix as well.
In a short 19 months, Porch has grown exponentially from 25 to 350 employees, and Ehrlichman shared with Benzinga that, "this was in no small part due to a decision over a year ago, by home improvement retailer Lowe's Companies, Inc. (NYSE: LOW) to become an early investor in Porch."
"In January 2014, Porch announced a strategic partnership with Lowe's that would see the home improvement retailer use Porch as their in-store resource (see image above) to help homeowners find the right home improvement professionals for nearly any project outside of Lowe's current installation services," he added.
"By May, Porch was available in every Lowe's store in the country (over 1,700) and over 250,000 associates have been trained on how to your Porch."
Related Link: Real Estate Crowdfunding: Are IPOs The Next Step?
Lowe's led the Porch $27.6 million Series A funding, and also participated in Porch's $65 million Series B funding led by Valor Equity Partners.
Home Improvement Giants - Zero Sum Game
Home Depot Inc (NYSE: HD) historically has had a higher percentage of sales to contractors than Lowe's. The Porch initiative appears to an attempt to build loyalty with both customers and contractors, in order to help Lowe's close that gap.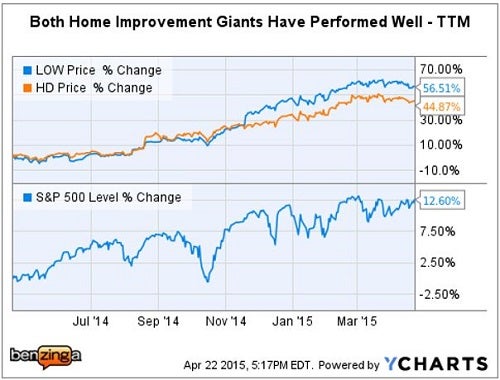 Home Depot bought the Redbeacon home services platform in 2012. At that time, Redbeacon publicized that, "Its innovative solution uses a proprietary algorithm incorporating even the consumer's own Facebook social graph to recommend professionals."
Porch Home Report
This product is a way for homeowners, contractors and real estate agents to literally get onto the same page.
The Porch Home Report (PHR) is available through News Corp (NYSE: NWSA)'s realtor.com, as well as a number of other real estate brokerages and networks. Ehrlichman mentioned that "several million reports had been requested, in just the first year."
Zillow Group Inc (NASDAQ: Z) is not currently participating in the PHR program, but has its own proprietary initiatives, including Zillow Digs. However, in contrast to the "zero-sum game," in home improvements, Porch is willing to enter into PHR agreements with multiple vendors.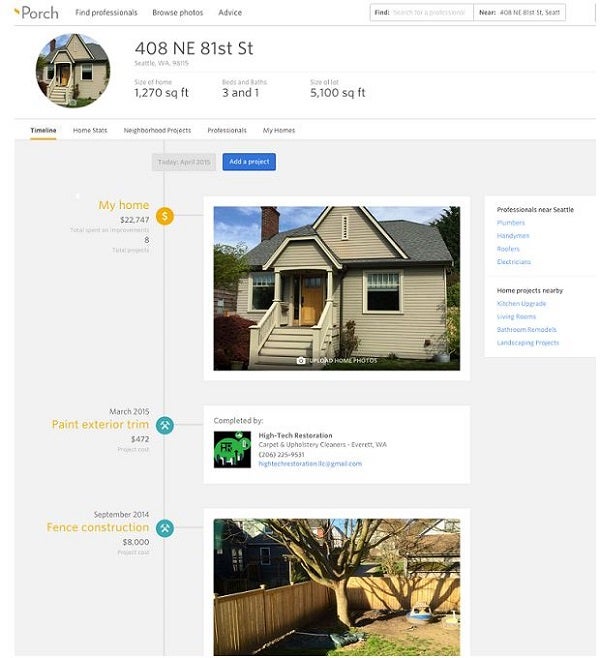 Source: Porch.com
It is free to homeowners, who can "claim their own home," to create a page to showcase renovations, (sort of a Pinterest/FB Page mashup); update home repairs and maintenance (think of a Carfax vehicle history report); and also keep up with both DIY improvements and projects built by contractors active in the neighborhood.
Homeowners who spend the time and effort to spruce up their homesteads now have a place to showcase projects, which could become a competitive advantage when it comes time to sell.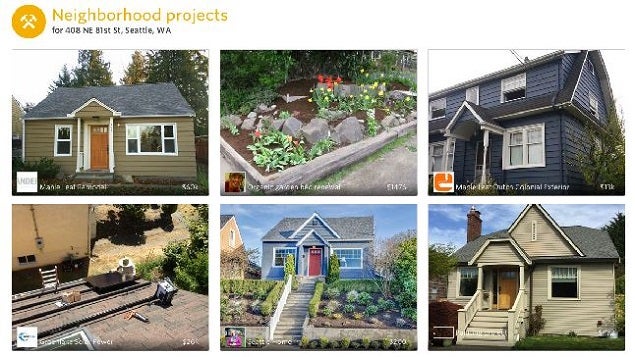 Source: Porch.com - partial PHR example
Porch's Contractor Connection
Contractors can register and post projects with Porch for free, but also have the option to pay for additional premium products to mine for customers in particular zip codes or neighborhoods, and narrow their focus by other parameters such as the median home price, in order to concentrate on a specific target market.
Ehrlichman mentioned that there are currently over 3.2 million professionals in the Porch data base, 450,000 of whom are verified to be licensed.
A Highly Competitive Space
Disruptive technologies surround us every day, so it should come as little surprise that Porch is not the only Seattle-based technology company with an innovative software solution to change how homeowners approach repairs and remodeling projects.
In fact, there are numerous startups in this space, such as Google Capital's Thumbtack, Pro.com backed by Amazon's Jeff Bezos, Houzz, BuildZoom and Zillow Digs, just to name a few.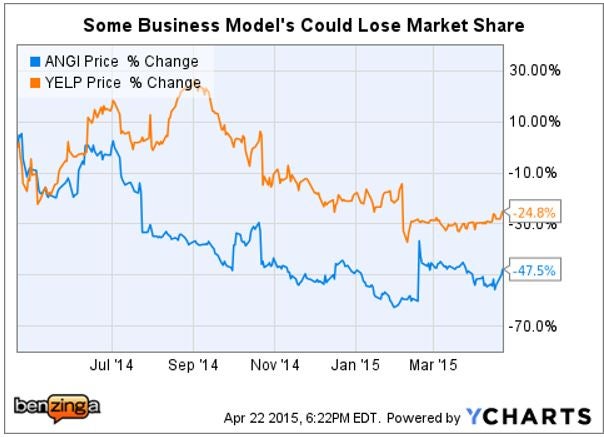 Familiar business models which address a broader range of consumer interests such as Yelp Inc (NYSE: YELP) -- or even Angie's List Inc (NASDAQ: ANGI) where members pay to join a referral program -- could see an erosion in revenues derived from home services due to increased competition.
Investor Takeaway
The Lowe's sponsorship and national store roll-out appears to have been the game-changer, helping Porch to become a force in a competitive space, in under two years.
Porch is either a value-added partner, or a disruptive competitor, depending on which stocks are held in your portfolio. Either way, savvy investors should factor them into the equation moving forward.
Image credit: Porch Press
Posted-In: Houzz Matt EhrlichmanTop Stories Startups Exclusives Tech Interview Real Estate Best of Benzinga
View Comments and Join the Discussion!