Etsy's Socially Conscious IPO: Is It Any Good?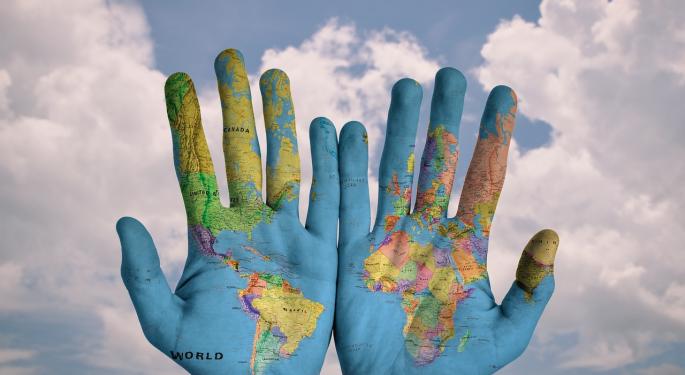 Etsy Inc(NASDAQ: ETSY), the eBay Inc (NASDAQ: EBAY) for handicrafts, connects buyers and sellers of everything homemade and beyond. From handmade arts and jewelry, bath supplies and electronics, Etsy sellers have a global reach, with a unique user base. And soon, it will begin trading publicly.
Etsy is planning its $307 million IPO for Thursday. The e-commerce tech company is set to issue 16.7 million shares at a price target of $16 a share with a valuation of approximately $1.8 billion.
Humble Beginnings
The company was born in Brooklyn, New York in 2005, as a way for its founders to make money selling their handmade goods and crafts supplies online.
Fast-forward a decade later when the company has transformed itself into an innovative, tech-based platform that has 54 million users in almost every country. The driving force is its community, which the company describes as "the heart and soul of Etsy."
Related Link: Why The Etsy IPO Is A Big Deal
Etsy can be likened to an online farmers market, where buyers want handcrafted goods made in a responsible manner instead of mass-produced, generic goods. This "people over profits" model truly makes Etsy stand out as it's about to enter the profit-focused world of Wall Street.
Tech Peers
Among the few tech companies that went public this year are Box Inc (NYSE: BOX) and the recent GoDaddy Inc (NYSE: GDDY), that has performed better than expected. Will Etsy fetch the same results?
Etsy's 'Tailored' IPO
Etsy is classified as a certified B corporation. A company receives this award when it meets specific social, environmental, accountability and transparency standards. It's similar to the Fair Trade certification for coffee. Etsy wants to use the power of business to solve social and environmental problems.
The company wants to spread the wealth around to smaller investors rather than focus solely on fewer institutional investors, because it wants to build a shareholder base that is in line with Etsy's socially conscious business practices and maintain the goal of spending money on marketing to increase its user base.
15 percent of Etsy shares will go towards retail investors that are limited to investing $100 to $2,500 (max of 150 shares), and 5 percent will be offered online through Morgan Stanley.
Related Link: Wedbush Initiates Coverage On Etsy
Etsy feels that the buyers and sellers on its platform typically aren't investors and will hold the shares compared with wealthier investors that may flip them for a quick profit.
Taking The Etsy Show On The Road
Etsy's focus on institutional investors is different than traditional IPOs where the big players are usually given special attention. Etsy is focusing only on the institutions and funds who intend to hold their allocations rather than flipping them for a quick profit.
Etsy's road show involves the traditional cities such as New York and Boston, but the company is conducting about 30 one-on-one meetings with the big players, alongside its bookrunner Goldman Sachs.
Etsy has taken a conservative valuation approach in an attempt to score points with intuitions by pricing its shares at five times expected revenue. Last year, the average IPO had a seven times price to revenue multiple when trading began.
Relevant Financials
Etsy's revenue has been consistently strong. Revenue for 2014 came in at $195 million, an increase of $70.6 million, or 56.4 percent from $125 million in 2013. Etsy is similar to eBay and Alibaba Group Holding Ltd (NYSE: BABA) in that it doesn't make its own products, but collects revenue from seller fees and promotional services.
Sales have been higher in the fourth quarter compared to the company's traditional lower first quarter as a whole, due to shopping trends. Etsy said in its prospectus that gross merchandise sales (amount of money that changes hands) was $1.93 billion in 2014.
Etsy's active buyers have increased from 9.3 million in 2012 to 19.8 million in 2014. Active sellers have rose around 28 percent since 2012.
Related Link: Little Hill Jewelry To Unveil Teardrop Earrings Collection
Despite gross profit margins at a consistent 62 percent, the company has yet to make a profit. Net losses have mounted since 2012, from $2.4 million to $15.2 million. Etsy has high operating expenses for items like marketing and product development.
On a positive note, Etsy reported $12 million in cash flow from operations in 2014 and maintains a loyal customer base. Around 80 percent of last year's transactions came from repeat purchases.
The company holds $69.7 million in cash mainly for working capital purposes. Etsy says it has enough cash on hand, as well as cash generated from operations and available in borrowing capacity, to meet its cash needs for the next year. Etsy plans on increasing capital expenditures to support business growth and invest $50 million to build a new headquarters in New York mid-2016.
Looking Forward: Pricing Info
While Etsy might be a great place for buyers and sellers to come together and do business, investors should err on the cautious side. The company is a niche player in the e-commerce field that is dominated by giants like eBay and Amazon.com, Inc. (NASDAQ: AMZN).
Although Etsy's demographic is more socially conscious minded, as time goes on the questions is, what happens when Etsy sellers decide they may want to take advantage of these two behemoths' customer base and sell on their platforms?
Related Link: IPO Outlook: Party City Pumps Up This Week's IPO Market
Another concern is Etsy's mounting losses with high operating expenses that will likely continue due to global expansion. If losing money isn't enough, investors should look at the company's planned use of proceeds. Funds obtained from the IPO will be used to create a public market for their common stock, increase company visibility and take $300,000 of proceeds to fund their non-profit organization Etsy.org.
It seems as if this IPO is little more than a marketing campaign to increase its social cause prerogatives. Taking a stand for its values is commendable, but shareholders want to see returns.
Etsy plans to list under the ticker ETSY on the NASDAQ. The 16.7 million shares expect to price between $14 and $16 per share. The main bookrunners on the deal are Goldman Sachs, Morgan Stanley and Allen & Company. Trading is expected to open Thursday, April 16.
Disclosure: At the time of writing, the author holds no positions in any of the above mentioned securities; however, the author may initiate a long or short position anytime without notice.
Image Credit: Public Domain
Posted-In: Allen & Company Certified B Corporation Goldman Sachs Morgan StanleyNews IPOs Tech Trading Ideas Best of Benzinga
View Comments and Join the Discussion!