Fidelity Investments VP Ken Hevert Shares Retirement Tips At Tax Time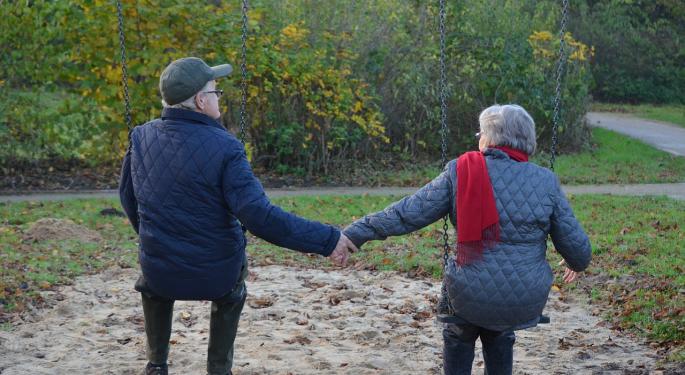 The April 15 tax deadline is fast approaching, motivating many investors to open or make their annual contribution to an Individual Retirement Account (IRA).
Business data from Fidelity indicates 25 percent of people contributing to their IRAs make those contributions in April.
Ken Hevert, senior vice president of Retirement Products at Fidelity Investments, spoke with Benzinga on the subject of retirement savings.
Related Link: Roth Hopping: Maximize Returns Within Roth Accounts, Minimize Taxes
People Are Saving Money
According to Hevert, "More people save more now than we have seen over the last seven or eight years."
He noted, "During the grand recession, there was a major focus by individual investors on making sure they got a good handle on their debt and getting their spending under control."
That trumped long-term investing and saving, Hevert said.
"Over the past five years," he said, "we've seen people really commit to long-term savings like saving for retirement or saving for college."
The 15 Percent Rule
Hevert doesn't like to talk "big numbers." Instead, he has a rule of thumb that makes it easy to set a savings plan.
"Try to save 15 percent of your earnings," Hevert said. "So, for example, for every $20,000 in earnings, try to save $3,000.
"Our goal is to put ourselves in a situation where someday we've got sufficient income coming in so we don't have to worry about making too many compromises in our lifestyle and also making sure we have enough money to last us our whole life."
He continued, "The 15 percent rule has proven to play out over a period of time."
Motivating Those In Their 20s And 30s
Hevert sees two reason young people are not motivated.
First, retirement is so far away, it's difficult for them to visualize.
Second, they have so many competing demands, trying to accomplish so much at this stage of their career.
"The first thing young investors should do," he said, "is to think more about the fact this isn't about a retirement date. This is about putting yourself in a situation in which someday you can really pursue the things that matter the most for you. It's about becoming more self-reliant."
Related Link: The Dark Side Of A Generation's Frugality
In addition, according to Hevert, "It's about being able to put aside a little bit of an emergency fund that allows you to feel confident that if an emergency takes place in the short term you can handle it.
"It's really important to think of this thing a little more holistically," Hevert said, "and not just that 'I'm putting money into an IRA and won't be able to touch it for 35 or 40 years.'"
Catching Up
"If you didn't make a contribution in 2014, you should make it now, because missing one year of a contribution can really add up over time. Over a 30 year period, that could be about $50,000 or so," Hevert said.
"If you are over the age of 50 you can put up to $6,500 into an IRA," Hevert noted.
Finally, he said, "Just because you're getting closer to the finish line doesn't mean you should be sitting on an ultra-conservative portfolio. You still want to be able to take advantage of a good mix of stocks, bonds and cash and the long-term growth potential of equities. Nothing works better than being able to trade or invest in a tax deferred account."
Related Link: These 10 States Have The Highest Capital Gains Taxes
Turning Motivation Into Action
"If having a vision for your 'someday' doesn't motivate you, I'm not sure what will."
Hevert elaborated, "How many times have you said to yourself, 'Someday I want to live here' or 'Someday I want to do this?' That's what people need to be thinking about. That's the motivation."
How to turn that motivation into action is the next challenge according to Hevert. His solution? Do for retirement what you do for things like a gym membership if your goal is to get in shape.
"People have their gym membership automatically deducted from their checking account. Do the same thing for retirement. Just put it on an auto-payment system, have your money go automatically into an asset allocation portfolio and you are pretty much done."
At the time of this writing, Jim Probasco had no position in any mentioned securities.

Image Credit: Public Domain
View Comments and Join the Discussion!
Posted-In: Fidelity fidelity investments IRA Ken HevertTop Stories Exclusives Personal Finance Interview Best of Benzinga