Benzinga's M&A Chatter for Tuesday April 7, 2015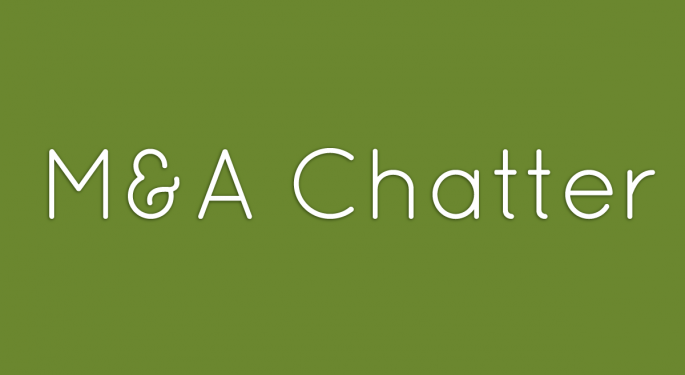 The following are the M&A deals, rumors and chatter circulating on Wall Street for Tuesday April 7, 2015:
Mallinckrodt in Talks to Acquire INSYS Therapeutics for ~$65/Share, According to Source
The Rumor:
A source familiar with the matter, told Benzinga on Tuesday, that Mallinckrodt Public Limited Company (NYSE: MNK), was in talks to acquire INSYS Therapeutics, Inc. (NASDAQ: INSY). The purchase price is said to be around $65 per share.
Mallinckrodt replied in an email to Benzinga "As a matter of policy, we do not comment on market rumors or speculation." INSYS Therapeutics did not immediately respond to a request for comment.
Insys has received FDA orphan drug designation for LEP-ETU for gastric and ovarian cancers. The company stated in January it would initiate five phase III trials this year.
Mallinckrodt acquired Cadence Pharmaceuticals and Questcor Pharmaceuticals in 2014.
INSYS Therapeutics shares closed at $52.95 on Tuesday, a gain of $0.05.
FedEx to Acquire TNT Express for ?8.00/Share
The Deal:
FedEx Corporation (NYSE: FDX) and TNT Express N.V. (OTC: TNTEY) announced Tuesday, that Fedex has offered €8.00 per share in a transaction giving TNT Express at an implied equity value of approximately ?4.4 billion or $4.8 billion. The TNT Boards have recommended that shareholders approve the proposal.
FedEx shares closed at $171.16 Tuesday, a gain of more than 2.5%.
Informatica to be Acquired by Permira Funds, CPPIP for $48.75/Share in Cash
The Deal:
Informatica Corporation (NASDAQ: INFA) announced Tuesday, that it has agreed to be acquired by a company controlled by the Permira funds and Canada Pension Plan Investment Board for $48.75 or approximately $5.3 billion in cash.
Informatica's Board of Directors has approved the merger agreement, subject to receipt of shareholder approval. The deal is expected to be completed in either Q2 or Q3 of 2015.
Informatica shares gained more than 4% Tuesday, closing at $47.79.
View Comments and Join the Discussion!