Japan's Economic Woes Continue: Industrial Output Plunges 3.4% In February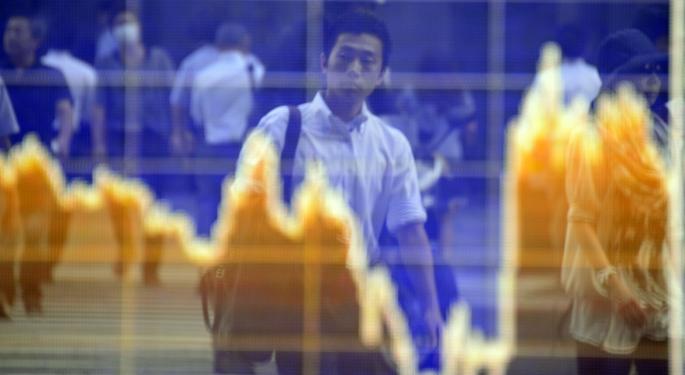 Economic data for February indicates that the world's third-largest economy is still going through a sluggish period as it tries to cope with weak household and business spending and near-zero inflation levels. According to Marketwatch, "Japanese industrial production contracted for the first time in three months in February."
Japan's Consumer
As BBC explains, "Annual core consumer inflation in Japan [...] stopped rising for the first time in nearly two years in February.
"The core consumer price index (CPI) was flat from a year ago, stripping out the effect of last year's sales tax increase in April."
Related Link: Research And Markets: Japan Consumers and Sustainability
Japan's household spending fell 2.9 percent in February from a year ago, and retail sales dropped 1.8 percent. Meanwhile, the production of goods ranging from electronics to cosmetics decreased 3.4 percent from the previous month, according to the Ministry of Economy, Trade and Industry.
Abenomics And Its Uphill Climb
Japanese Prime Minister Shinzo Abe has introduced the Abenomics policy program, which aims to revive the economy by "boosting exports and business investment [and] raising wages." However, the program's positive effects haven't kicked in yet.
The New York Times, meanwhile, reports that this may precisely be the reason why Japan's economy is struggling to revitalize itself.
NYT states, "Countries cannot export their way to growth if other nations are not in a position to buy their goods and services. That might help to explain why Japan's economy is still struggling two years after its central bank began buying bonds in a big way, which has helped to send the yen tumbling against the dollar."
Moreover, the Ministry of Economy, Trade and Industry expects Japan's output to slump again next month "by 2.0 percent, before recovering increasing 3.6 percent in April."
View Comments and Join the Discussion!
Posted-In: BBC Marketwatch Ministry of Economy Trade and Industry Shinzo Abe The New York Times yenEconomics Best of Benzinga