ICYMI: Everything Moving The Market To Start The Week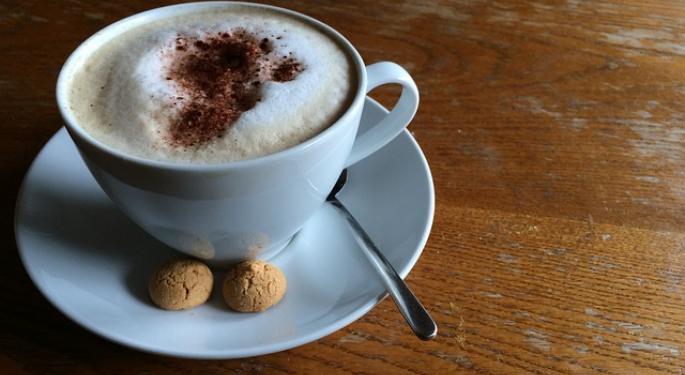 The following is a re-print of the Morning Brew newsletter.
Market Corner
MARKET MINUTE: EARNINGS TO COME
Friday's close ended last week's four-day losing streak, with all indices finishing positive, despite additional comments by Fed Chair Janet Yellen. Suspicions have been confirmed: future interest rate heightening is imminent, but overshadowed on the list of priorities by start of earnings season. After news regarding the Saudi attacks, WTI oil took a slide, closing around $48/bbl. The intensity of the underlying volatility appears to be increasing every subsequent week. Lets hope that volatility takes a backseat while earnings season takes the wheel.
WORLD MACRO: PREVIEWING THE WEEK
Despite the shortened market week due to Good Friday, there's still plenty to keep an eye on. Here's a quick snapshot:
The best has been saved for last, as we await Friday's jobs report. Economists expect a 248,000 person increase in payrolls, but the unemployment rate and labor force participation rate will likely stay constant at 5.5% and 62.8%, respectively. The labor picture has been one of the few consistent bright spots in recent months, so all eyes will be focused on how much the U.S. employment outlook continues to improve.
Expect news on the Greek front later this week, as the embattled country and its creditors continue talks to secure appropriate loans and funding, which must be approved by the Eurogroup. The stakes? Only that Greece will literally run out of money by April 20 if their new reforms are rejected.
Other data to watch: The University of Michigan consumer confidence index on Tuesday (expected to stay unchanged at 96.4, below the normalized average of 100) and initial jobless claims on Thursday (expected to rise slightly to 285,000, but still a general improvement over recent months).
U.S MACRO: ECONOMIC CONCERNS LINGER FOR UPCOMING WEEK
GDP Data Showing Weakness
Despite positive economic data released last week, GDP growth estimates fell for the first quarter of the 2015 fiscal calendar. After all the progress, including improved CPI data and housing demand numbers, the Federal Reserve's branch in Atlanta dropped their quarter growth estimate from 0.3% to 0.2%. Analysts throughout the financial world have followed suit, dropping their annualized quarter estimates a few basis points. The Fed predicted this initial hesitation in their announcement a few weeks ago.
Areas to Watch
This news is sure to agitate the financial markets, which have been jumpy as is. Poor economic data tends to send the dollar's relative value downwards as investors react to potential weakness in the U.S. economy. Additionally, look for the price of gold to rise based on its inverse relationship with the dollar, and its safe haven qualities as investors unfurl their wings in a "flight to quality." How this news will affect the volatile price swings of oil is yet to be seen.
CORPORATE PRIMER: EARNINGS SEASON IS UPON US
Dow Chemical Co (NYSE: DOW) will be selling most of its low margin chlorine business to smaller manufacturer Olin Corp. in a $5 billion cash-and-stock deal.
BlackBerry Ltd (NASDAQ: BBRY) shares are trading higher as fourth quarter earnings per share of $0.04 beat analyst expectations by 8 cents, although its $660 million revenue missed expectations of $794 million.
Carnival Corp (NYSE: CCL) adjusted earnings per share of $0.20 have topped analyst expectations by 11 cents, although they project soft earnings next quarter, citing foreign exchange impacts.
OTHER STORIES
Water Cooler
TIM COOK TO DONATE ALL
What should I do with all this money?
On Friday, Apple CEO Tim Cook answered the question, announcing plans to donate his entire net worth of nearly $800 million to philanthropic causes. The condition? He has to pay for his 10-year-old nephew's college education first. Cook has already made several donations on behalf of Apple, the largest being $40 million to the Thurgood Marshall College Fund. Alongside Bill Gates, Warren Buffett, and Mark Zuckerberg, Cook has joined a movement that is redefining philanthropic awareness and corporate responsibility. More and more billionaires are pledging away their fortunes, in fact:
More than 120 billionaires have publicly signed up for The Giving Pledge.
Almost 10% of all billionaires have agreed to give up the majority of their wealth when they pass away.
29 people signed the pledge in 2013, and 17 of them came from overseas.
The Mix
BUILDING BLOCKS: REAL ESTATE CROWDFUNDING GROWS WITH MARKET
As the U.S. real estate market catches a glimpse of sunlight, the market for "flippers" is surging. "Flipping" is done in three easy steps. First, buy distressed or dilapidated properties. Second, fix them up. Third, flip them for a quick buck. Unfortunately, since the crisis, it has been more difficult for flippers to borrow money. Enter crowdfunding. Through crowdfunding services, such as RealtyShares, flippers can quickly raise capital from investors, who get a 9% return. Quick and efficient borrowing does come at a cost, however. The 9% interest squashes the current Fannie Mae- or Freddie Mac-backed mortgage rate of 4%.
TODAY IN TECH: NOW PLAYING - YOUR LIFE
The market for live streaming on the internet just got crowded. Less than a week after Meerkat made waves at SXSW, rival app Periscope officially launched on the Apple App Store. The two apps allow users to stream live video to their various social media feeds, and enable friends to 'like' or comment on every move. While you may not be particularly enthused by the opportunity to watch your co-worker cook dinner, the platforms are pushing for more momentous uses, documenting real news real time.
STARTUP OF THE DAY: PEBBLE'S RECORD KICKSTARTER CAMPAIGN
Smartwatch maker Pebble Time just broke Kickstarter records, raising upwards of $20 million in funding. Aptly named "Time," the smartwatch stands out with refreshingly simple features and displays, and with a considerably longer battery life than its competitors, Time never stops. The real selling point is its ability to work with a range of product ecosystems. iOS or Android, Pebble's Time doesn't judge. With nearly 100,000 watches on pre-order, it looks like this startup may give Apple and Samsung a run for their money.
The Breakroom
INTERVIEW QUESTION OF THE DAY
What defines a good Leveraged Buyout candidate (Answer)?
BUSINESS TERM OF THE DAY
Average Down -- Buying more shares in a company at a lower price than your original purchase price, in order to decrease the average price you paid for all of your shares. It reduces a shareholder's cost basis, decreasing the amount that the stock must rise in order to make profit.
FOOD FOR THOUGHT
StuffedAnimals.com is a New York state-based stuffed animal hospital that cleans and restores stuffed animal dolls back to health. They call their toys patients, ship products in "ambulance boxes", and return stuffed animals with hospital bracelets. No, it's not a joke. Last year, the website was visited by nearly 1,000,000 customers.
Image credit: Public Domain
The preceding article is from one of our external contributors. It does not represent the opinion of Benzinga and has not been edited.
Posted-In: morning brew morning newsNews Previews Trading Ideas Best of Benzinga
View Comments and Join the Discussion!