Proposed Regulation Would Crack Down On Payday Loan System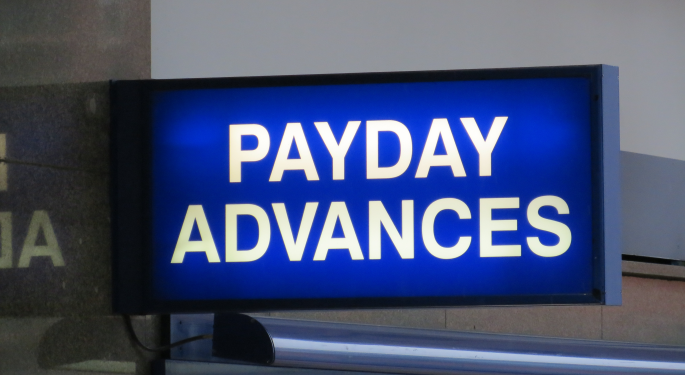 The Consumer Financial Protection Bureau (CFPB) is going to unveil a new set of proposed regulations to crack down on payday loans and other forms of short-term loans. The federal watchdog agency will showcase the new proposal on Thursday, March 26 — the same day President Obama is expected to deliver a speech in Alabama discussing the agency and its work.
How the Payday Loan System Works
Millions of consumers rely on short-term loans to cover purchases or urgent financial needs, but this kind of financing — also known as payday loans — can do more harm than good. Payday loans can pack triple-digit interest rates that leave borrowers in an endless cycle of borrowing and debt. Many times they are unable to make the payment when it is due, so they take out a new loan and the cycle begins.
Payday loans are often presented as an alternative to credit cards and other loans, but high interest rates and fees can make this the most expensive type of financing on the market. In many cases, if the borrower cannot pay the debt back, the lender can force an overdraft fee, which just leaves the borrower deeper in the red.
When a borrower cannot repay the original payday loan, the lender will often offer to renew the loan for a fee. Sometimes the lenders will even offer a new loan using a car title as collateral. By the time the borrower is in this position, they are hooked into the system and there is almost no way out.
According to NPR, government researchers found that four out of five payday loan borrowers renew their loans before their next paycheck. One in five borrowers renewed at least seven times.
Oftentimes, the accumulated fees amounted to more than the original loan. These tactics have helped the payday loan market grow from a $14 billion industry in 2001 to a $46 billion business today.
How Payday Lenders Avoid Regulation
States have been working for years to tighten regulation on payday loans, but this has done little to detour the industry. Jeff Merkley, an Oregon state senator, told Time in 2013, "Over 20 states have passed legislation to stop abusive lending, but these efforts have been challenged by the growing online presence of payday lenders."
The New York Times reported that many payday lenders set up shops in states with loose regulations or sometimes even overseas to get around lending laws. This practice is predatory at best and sometimes even illegal.
For example, in the fall 2012, a lawsuit was filed against JPMorgan for alleged illegal and exploitative payday loan tactics. The plaintiffs in the case claimed they lost thousands of dollars in penalty fees that they shouldn't have been forced to pay.
The Neighborhood Economic Development Advocacy Project filed the suit on the plaintiffs' behalf and stated that banks should not let payday lenders take funds from customer accounts in states where these types of loans are illegal.
JPMorgan said in a statement it was "in discussion with these customers to resolve their issues." Jamie Dimon, CEO of JPMorgan Chase, promised to change how the bank processes automatic withdrawals from internet-based payday lenders.
New Payday Lending Rules Will Affect Consumers
The proposed regulations are likely to address how much debt consumers can take on, how many times they can renew the payday loan and mandatory repayment plans. There will likely be more rules around collection practices and automatic bank withdrawals as well.
Most lenders would consider a loan to pay for bills or everyday expenses a red flag, but payday lenders see this as a moneymaking opportunity. Regulators want payday lenders to give short-term loans based off the ability to repay, which is a basic principle of traditional lending.
Another proposition is requiring lenders to notify borrowers at least three days before withdrawing money out of their bank accounts, as well as limiting the number of times a lender can attempt to withdraw the funds.
Richard Cordray, director of the CFPB, told NPR, "What we want is for that credit to be able to help customers, not harm them. What we find is consumers who get trapped in a debt cycle — where they're having to pay again and again, fee after fee — is actually quite detrimental to consumers, and that's what we're concerned about."
The preceding article is from one of our external contributors. It does not represent the opinion of Benzinga and has not been edited.
Posted-In: payday loan regulation Payday loansNews Politics Legal General Best of Benzinga
View Comments and Join the Discussion!