So..What Are The New Federal Fracking Rules?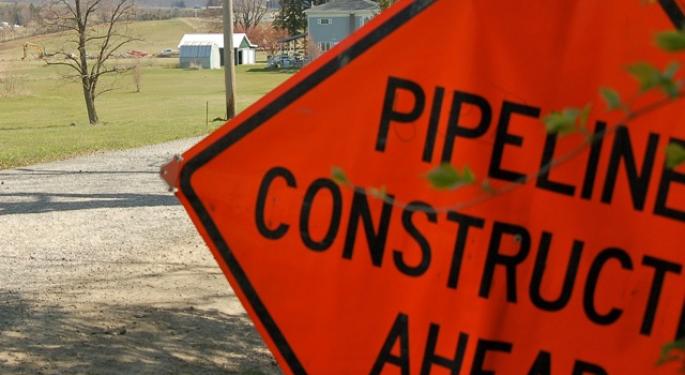 The Obama administration unveiled the nation's first federal regulations on hydraulic fracturing Friday. The process of hydraulic fracturing, commonly referred to as "fracking," is a powerful and controversial technique responsible for much of the recent oil and natural gas boom in the U.S.
What Is Fracking?
Fracking is an extraction technique in which high-pressure fluid is injected into a wellbore with the intention of cracking rocks deep underground and releasing trapped crude oil and natural gas.
Related Link: Barclays: Oil Bulls 'Need To Be Cautious'
Widespread use of the process has allowed North American drillers access to underground pockets of oil and gas in a relatively easy and efficient way. In fact, fracking is largely responsible for putting the U.S. on a path to become the world's largest oil and gas producer.
Why The Controversy?
Environmentalists worry that the chemicals oil and gas drillers use in the fracking process can contaminate local water supplies and can be harmful to the environment. Environmental concerns led the state of New York to ban fracking altogether.
States have authority over fracking regulations when it comes to private and state-owned land, where the majority of fracking is done. However, the new federal regulations will apply to the 100,000 or so oil and gas wells currently operating on public lands.
Though not binding for fracking done on private and state-owned land, President Obama hopes that the federal guidelines will set the standard for state fracking regulations.
What Are The New Rules?
The new regulations include provisions for government inspections of the concrete barriers that line fracking wells. In addition, the regulations set new safety standards for on-site chemical storage.
Perhaps the most important of the new rules is that companies now must publicly disclose exactly what chemicals are used for fracking within 30 days of completing operations.
The new federal fracking rules go into effect in 90 days.
Market Shrugs Off News
Shares of the United States Natural Gas Fund ETF (NYSEMKT: UNG) closed down about 1.0 percent on Friday. The United States Oil Fund ETF (NYSEMKY: USO) climbed 2.2 percent.
Image credit: Ostroff Law, Wikimedia
Posted-In: News Specialty ETFs Commodities Events Top Stories Markets ETFs Best of Benzinga
View Comments and Join the Discussion!