Tesla Range Anxiety Conference: A Play-By-Play Recap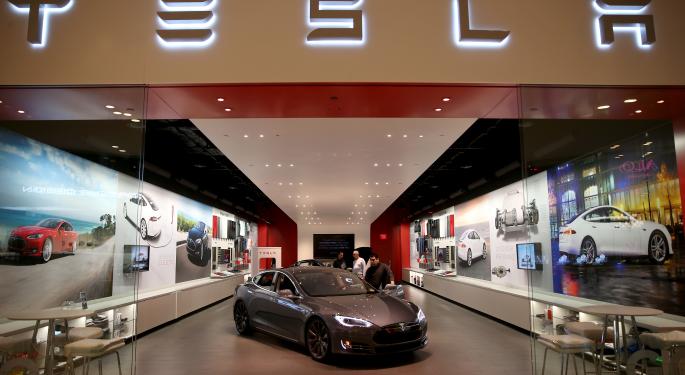 Tesla Motors Inc (NASDAQ: TSLA) CEO Elon Musk tweeted earlier this week about a special conference to announce an "end to range anxiety." The conference is scheduled to begin at 12 p.m. ET.
UPDATE: Shares down more than 1.8 percent at $196.97
12:45pm: Conference call has ended.
12:43pm: Musk: We don't see the Range Accuracy prediction being affected by traffic.
12:42pm:
Heavy traffic not nearly a big deal for elec. cars compare dot gas cars
12:40pm: All cars have 3G; rolling out LTE right now
12:39pm: Aiming for every 3-4 months for software updates.
12:38pm: When asked how the car will know if driver is paying attention, Musk says perhaps a torque detector on steering wheel
12:37pm: Musk compares auto-pilot to that of an airplane; pay attention, but car should take care of you
12:35pm: Musk: Can't give everything away (chuckles) Got to save something for the next call.
12:34pm: Trying to stay ahead of supercharger demand; this year, we're going to approx. double supercharger deployment
12:32pm: Auto-steering only enabled once a driver is on highway or major road. Or private property at low speed - ultrasonic sensors can detect and car can navigate in the dark
MID-DAY UPDATE: Shares dropped sharply early into the conference, down more than 1 percent at $198.70, but were trending upward.
12:27pm: Proportionally added more chargers in China than anywhere else in the world. We are seeing steady improvements.
12:26pm: Car will route driver to supercharge station that isn't busy.
12:25pm: Tesla is as much software co. as it is a hardware co. View updates the same as updating phone or laptop
12:23pm: Musk: 200 miles is a min. threshold for a car. That's a passing grade. People are looking for 20-30% more. We're looking for closer to 300 miles.
12:21pm: Model X coming out this summer; has some elements people haven't seen in show cars
12:20pm: The car is becoming more sensor-aware; turning on more senses.
12:19pm: Musk: Intelligent charging stations and an intelligent car communicating in a big network. That's never existed before.
12:18pm: Car will look up charge stations in realtime, once every 30 seconds.
12:16pm: Musk: Significant supercharging stations coming to Australia
12:15pm: Q& A session begins.
12:13pm: Adding the Summon button, allows you to hit a button on your phone and have the car come to you. Car will park itself in garage and close the garage door.
12:12pm: Version 7 will have complete view and auto-steering; able to drive from San Francisco to Seattle without touching anything.
12:11pm: Adding active safety squares: auto-emergency braking - will be in all Tesla cars manufactured from Oct. 2014
12:09pm: Second feature: Trip planner; Model S will automatically direct you to charge location
12:09pm: It will be 'impossible to run out, unless you do so intentionally.'
12:08pm: Musk introduces 'range assurance'; Map shows you most convenient and closest locations
12:07pm: Most people don't have range anxiety; these updates (Update 6.2) it's helpful for people who don't have Model S
12:06pm: Musk: Most cars don't improve over time.
12:05pm: Tesla will not be talking about stock price or company financials
12:03pm: Ricardo Reyes and Elon Musk will be on the call
12:02pm: Conference will begin momentarily
11:50am: Shares of Tesla up slightly on the day at $201.57
Here are some recent articles on Tesla:
How Much Can Tesla 'Push The Envelope' On Battery Technology With Software?
Elon Musk Making More Headlines Ahead Of Thursday's Conference
TheStreet's Chris Ciaccia On Tesla: Updates, Range Anxiety Will Have Little Impact On Sales
Posted-In: Elon Musk range anxietyNews Events Best of Benzinga
View Comments and Join the Discussion!