Merchant Cash & Capital CEO: Tightening Labor Market A Good Sign For Small Business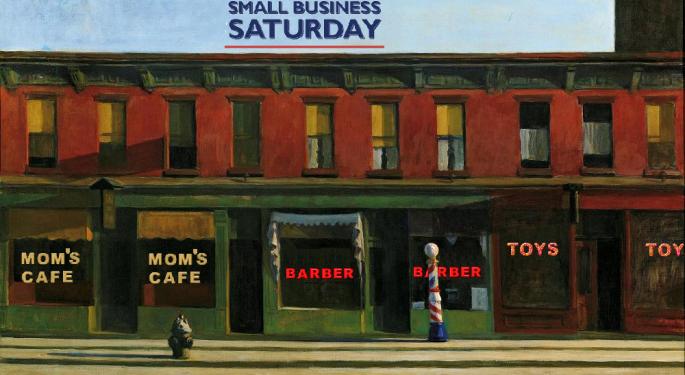 According to Merchant Cash & Capital founder, President and CEO Stephen Sheinbaum, the big takeaway from the most recent NFIB Small Business Optimism Index was that that optimism is edging up in the business community.
Sheinbaum, who spoke with Benzinga, noted, "In particular, you're looking at people wanting to increase inventories which is always a good sign."
Related: When Should The Fed Raise Rates?
Tightening Labor Market
Perhaps even more importantly, Sheinbaum said, "You're seeing the tightening in the labor market finding its way down into the small business community with 29 to 30 percent of people saying they couldn't fill open positions."
After all, he pointed out, "Big business drives the economy but small business drives labor."
Difficult Position For Fed
While an improving economy could prompt the Federal Reserve to raise rates, Sheinbaum said there's reason for caution.
"I think the Fed is in a bit of a difficult position," he said, "because the U.S. is going to be raising rates while the rest of the world is easing. I think they're going to have to monitor it. I guess they'll continue to look at the labor markets and see what happens to core inflation."
Anecdotal Alignment
"In our business," Sheinbaum said, "the report supports what we see anecdotally. We see a very strong uptick in demand for financing."
In addition, when MCC talks with customers about how they plan to use loan proceeds, Sheinbaum said there has been a match there as well.
Growth A Watchword
"The report talks about it," he said. "It talks about building, about taking on new inventory, opening new locations, and labor needed to grow business."
He compared the recent climate with several years ago when customers were more concerned about "weathering the storm."
"I think we're moving more and more away from the economic downturn," he said, "and more towards a prosperous period."
A Range of Businesses
Typical seekers of alternative (to traditional bank) financing, who come to MCC for funding, have evolved in recent years.
The clientele represents a broad range including restauranteurs, construction, plastic surgeons, tax professionals, some industry even credit providers.
Then And Now
In the past, customers who had been in business too short a period of time or who lacked sufficient collateral came to MCC because a traditional bank was not an option.
Now many clients prefer MCC because, as Sheinbaum puts it, "with all the technology and innovation and speed and efficiency we've brought to the table people still want to deal with us as opposed to a regular bank."
"We can pre-approve and fund someone in less than an hour," he said. "A typical transaction will take us several hours or one or two days. That's from inception to funding, as opposed to taking weeks and weeks."
Back To Labor
Reiterating what he considered the most encouraging news in the latest NFIB report –- the tightening in the labor market –- Sheinbaum pointed out the fact that small businesses very often don't have the budget to take on expense long before revenue comes in.
"Most small business owners," he said, "really want to see demand and revenue going up before they go hiring more people."
Related: SEIN Analytics CEO Explains What Investors Are Missing In The Structured Credit Space
Good News For The Lending Community
The fact the labor pool has tightened has been reflected in MCC's results as well.
"Our business is up between 80 and 100 percent year over year," Sheinbaum noted.
"I attribute most of the increase in demand to an improvement in the economic environment and people being willing to take on money to spend," he said adding, "That's my story and I'm sticking with it."
At the time of this writing, Jim Probasco had no position in any mentioned securities.
Image Credit: Mike Licht, Flickr
Posted-In: Benzinga Federal ReserveEconomics Federal Reserve Exclusives Interview General Best of Benzinga
View Comments and Join the Discussion!