Fed Statement: A Play-By-Play Recap Of Janet Yellen And 'Patient' Mania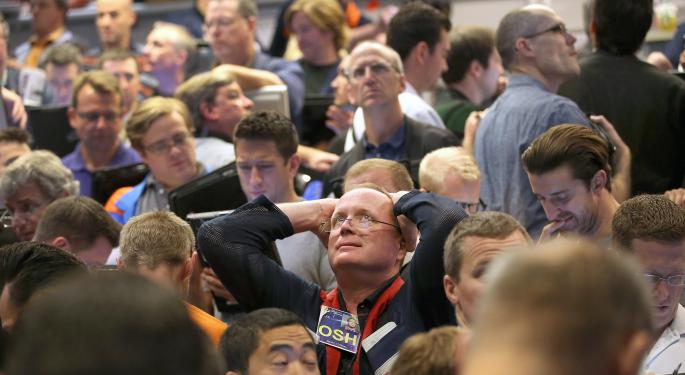 Markets are watching Wednesday afternoon's Federal Reserve statement and ensuing Janet Yellen-led press conference very closely. The statement will break at 2:00 pm ET, with the press conference airing 30 minutes after.
Below is a live blog of the events.
03:26:11pm: The event has ended.
03:25:12pm: Yellen: "It's very important for the Federal Reserve to be held accountable by Congress."
03:18:58pm: Yellen: "The focus of banking regulators is safety and soundness..what we want to see is changes made as rapidly as possible that will eliminate practices that are unsafe or unsound."
03:13:01pm: Yellen: "This is something that doesn't occur very often...but it has been reported that our Inspector General is engaged in a review at this time."
03:12:12pm: Yellen asked about FOMC leaks.
03:07:01pm: Yellen: I expect net exports to serve as a "notable drag" on the U.S. outlook.
03:00:10pm: Yellen when asked if the U.S. stock market is in a bubble: "I don't want to comment on those particular sectors [social media and biotech]...overall measures of equity markets are on the high side, but not out of historical range"
02:56:01pm: Yellen: We can't provide certainty...to achieve our objectives we need to watch the data consistently re-formulate. "We shouldn't provide certainty because economic developments are uncertain."
02:52:59pm: Yellen: This is an influence we have long been aware of. "It's not something that just comes into play, now." It's why we've held rates low over the past six years.
02:50:35pm: Yellen: Participants are seeing "more slack" in the economy than they previously did.
02:49:49pm: WSJ reporter asks: Why are inflation expectations falling?
02:45:34pm: Yellen: "There has been a slight downgrading of estimates of growth for this year..." Mentions the strong USD, fall in export growth. "We are taking account of international developments; never the less, it is important to recognize this is not a weak forecast..we continue to project above trend growth, improvement in the labor market by the end of 2015."
02:45:18pm: Reuters reporter asks: Does this indicate the Fed "is going at it alone," when compared to rest of developed world?
02:43:01pm: Q&A begins.
02:42:56pm: Yellen on why FFR target is below norm: "Residuals of financial crisis...are likely to constrain credit for quite some time."
02:40:11pm: It will be "appropriate" to raise the FFR target when the committee has seen improvement in labor market, and when it's confident inflation will move toward 2% target.
02:39:16pm: "Today's modification of forward guidance should not be read that the committee has decided when to increase the FFR...we can't rule out [an increase in June]."
02:38:01pm: FOMC expects inflation to be "quite low" this year. Expectations are below 1%, down since December.
02:37:17pm: Unemployment rate expected to fall in 2016 and 2017.
02:36:11pm: Yellen: "Inflation will move gradually back toward our 2% objective over the medium term."
02:34:44pm:Yellen: Inflation has fallen below our longer-term goal, reflective of low energy prices.
02:32:09pm: Yellen: Maximum employment and 2% inflation still objectives.
02:32:02pm: Yellen: Just because we removed the word "patient," doesn't mean we're going to be "impatient."
02:31:01pm: Yellen: "With continued improvement in economic conditions, we do not want to rule out the possibility that an increase in the target range" could be considered.
02:24:59pm: Oil, gold trading up.
02:24:24pm: Gross: European QE is an "anchor" to the credit market.
02:20:11pm: Bill Gross on CNBC: I'm "little surprised" by dovish Fed; sees "prudence" as Fed's new word, no longer expecting a June rate hike.
02:06:45pm: S&P 500 Futures Ramp Up To $2081.25, Oil Pushes To Day High Of $43.37, Gold Up To $116.60
02:05:51pm: USD.JPY Pushes Low Of 120.538 Following Fed Stmt
02:05:03pm: Fed Says Rate Hike Remains Unlikely At April FOMC Meeting
02:04:31pm: Full Fed Statement Text
02:03:02pm: Median Fed Funds Rate To be 0.625% Vs Dec Est 1.125%
02:01:55pm: Fed Sees 2016 Jobless Rate 4.9%-5.1% Vs 5%-5.2%
02:01:19pm: Fed Projects Slower Pace Of Tightening, Sees 2015 Jobless Rate At 5-5.2% From 5.2%-5.3%
02:00:28pm: Fed Cuts Rate Forecast For End Of 2015 To 0.625%'
02:00:06pm: Fed Drops' Patient'
12:43:55pm: Marc Faber tells CNBC why European stocks un-hedged could outperform the US, and that the Fed won't raise rates.
12:13:05pm: Fari Hamzei of Hamzei Analytics reveals one way to play the announcement.
10:21:16am: Peter Schiff says QE4 is "where we are headed."
09:30:30am: Wall Street pros Timothy Anderson and Kenny Polcari explain what they're watching.
10:27:17am (Tuesday): Ron Insana pens "a layman's guide to patience."
Posted-In: News Econ #s Economics Federal Reserve Markets Best of Benzinga
View Comments and Join the Discussion!