Starbucks Annual Shareholder Meeting: A Play-By-Play Recap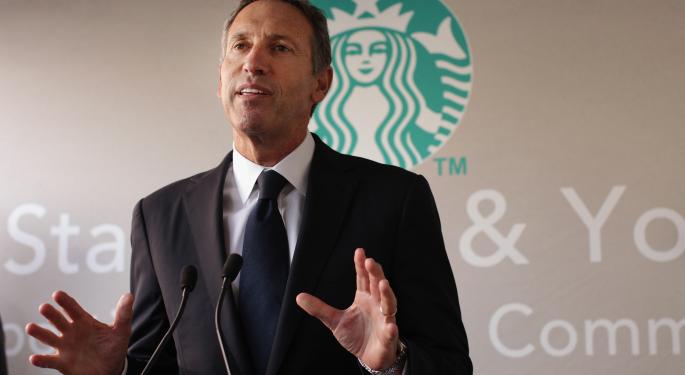 Starbucks Corporation (NASDAQ: SBUX) will hold its shareholder meeting Wednesday afternoon. Below is a live blog of the event.
The meeting is expected to begin at 1:00 p.m. EDT.
04:30:26pm: The meeting has ended.
04:21:33pm: Schultz said it would fix its gluten-free issues after an investor pointed out that the text on the packaging was too small to read.
04:19:20pm: Starbucks is launching its new app on iOS, then Android, but would not commit to a date for Windows Phone support.
03:44:13pm: Schultz welcomed Jennifer Hudson on stage, who is performing exclusively for those in attendance.
03:40:28pm: Schultz said some in the media may not like that Starbucks has a political agenda, but he said he and Starbucks' intentions are pure.
03:39:47pm: Schultz said that Starbucks has teamed up with USA Today to add "Race Together" supplements.
03:29:52pm: Common shared a story about a 10-year-old white kid who came over to him at a restaurant and said how he was affected by his music in "Selma." He was so touched by the kid, he just wanted to hug him, he said.
03:26:06pm: Common, Grammy and Academy Award-winning recording artist, was welcomed on stage.
03:24:37pm: Hobson: "Let's be audacious enough not to leave anyone behind."
03:17:19pm: Hobson said that diverse boards have an advantage over homogenous boards. Diverse boards outperform the rest.
03:15:52pm: Hobson: We must proactively address the issues of race.
03:08:22pm: Hobson: The first step in stopping a problem is to stop hiding from it.
03:06:36pm: Schultz welcomed Mellody Hobson, President of Ariel Investments and Starbucks board member, to open up the conversation for the #RaceTogether campaign.
03:03:55pm: Schultz: Starbucks created a safe environment where people can share their vulnerabilities and life experiences.
02:54:21pm: Starbucks also wants its employees, baristas, to be on hand at offices to bring coffee directly to customers. Starting at the Empire State Building.
02:53:02pm: Starbucks will pilot an on-demand delivery system with Postmates this year.
02:51:27pm: Shares of Starbucks are currently up more than one percent.
02:36:43pm: Starbucks wants to double tea revenue within five years.
02:29:16pm: Starbucks is the leader in roasting grounds and single-serve coffees.
02:27:39pm: Starbucks holds 22 percent of the premium coffee market.
02:24:05pm: "Delicious" snacks, curated by Starbucks, coming this summer.
02:23:31pm: Starbucks estimates that food sales will doubly by 2019.
02:19:34pm: Starbucks' growth in America is not being slowed down to focus in emerging markets.
02:17:19pm: Starbucks will open one store every six hours, 365 days a year.
02:15:21pm: Starbucks will open its 1,600th store in the coming weeks.
02:13:06pm: Japan, the first market Starbucks entered outside of North America, has been the foundation of international growth for 20 years. "India has huge potential for us as a company," said Culver.
02:10:28pm: John Culver, group president for Starbucks Coffee China and Asia Pacific, Channel Development and Emerging Brands, said there is no doubt the company will further accelerate the pace of new stores it operates in. That growth is most pronounced in China and Asia Pacific. For 18 consecutive quarters they've enjoyed 20 percent or greater revenue growth.
02:05:33pm: Katie Seawall, VP of category brand management, said that Reserve coffee is now in over 1,200 stores worldwide. She said 99% of the coffee will be verified as ethically produced this year.
01:55:12pm: 2015 guidance is $1.55 to $1.57 per share on a non-GAAP basis.
01:46:33pm: Maw: Starbucks takes its investments very seriously and ensures they drive the right level of return.
01:44:59pm: Scott Maw, CFO: "We saw records in revenue, cash flows, operating income, and our shareholders benefitted."
01:43:20pm: Schultz wrote in a journal, "The Willy Wonka of Coffee," nine years ago. He envisioned a grand experience, which became the Roastery.
01:39:01pm: Investors are annoyed by the lackluster video feed of today's event.
hey, @Starbucks, the webcast of your shareholder meeting is not working very well.

— Sydney Ember (@melbournecoal) March 18, 2015
01:33:17pm: Schultz reiterated his commitment to hire 10,000 veterans by 2018. He strongly believes they will exceed that goal.
01:32:33pm: Schultz told a story about a woman who was living out of her car but turned her life around after becoming a part-time barista. Her husband was sick and Starbucks paid for her insurance. She is now a district manager who manages several stores.
01:23:41pm: 3,000 district managers were brought to Seattle last fall for a special gathering.
01:22:28pm: This has been a significant year of investments, $233m in healthcare benefits, $73m in matched 401k contributions for FY 2014.
01:20:50pm: Starbucks has been in Fortune Magazine's list for the 13th consecutive year.
01:18:10pm: Starbucks will do a 2-for-1 stock split on March 30, 2015.
01:17:18pm: Starbucks had a market cap of $250m and had 125 stores 23 years ago. Last week the company served over 75 million customers. There are over 22,000 stores in 66 countries and the firm employs more than 300,000 individuals. Starbucks is now at it's all-time high of $70 billion, Schultz said.
01:11:21pm: Starbucks CEO Howard Schultz is proud of his company's social impact, and he said that's what this meeting is going to be about.
01:03:15pm: The meeting is starting.
01:02:03pm: Corey DuBrowa, Starbucks' SVP of Communications, briefly deleted his Twitter account but quickly came back online.
Here are some recent links on Starbucks:
View Comments and Join the Discussion!
Posted-In: Howard Schultz StarbucksNews Events Best of Benzinga