Lumber Liquidators Call On Formaldehyde Emissions: A Play-By-Play Recap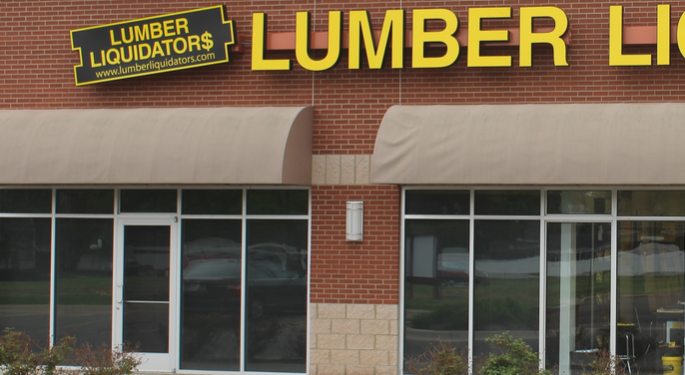 Lumber Liquidators Holdings Inc (NYSE: LL) will hold a special business update on Thursday morning, at 10:00am EDT. The call is expected to address allegations made in a recent 60 Minutes interview. Below is a live blog of the events.
11:02:11am: The conference call has concluded.
11:01:01am: "We will endure in our mission...our customers, shareholders and employees will benefit.."
10:59:35am: Company is widening the range of its remodeling plan from 15-20 to 10-20.
10:57:35am: Net sales would have to fall 27% below 2014 before we would seek liquidity strategies. This would be 24% below 2013. "We do not see evidence of this." We are not able to provide a full 2015 financial outlook.
10:55:58am: Cash flows will be sufficient to fund operations "for the foreseeable future."
10:53:43am: Q1 gross margin expectations: 150 bp decline, 37% low.
10:51:10am: If 23.5% decrease happens, March sales will be $83M, Q1 net sales will total $253.6M.
10:51:05am: If 7.5% decrease holds, March sales will total $95M, Q1 net sales will total $265.6M.
10:51:01am: Chinese laminates sales percentage fell 570 basis points in 9 days after 60 Minutes broadcast.
10:50:55am: Laminate sales fell 480 basis points in following 9 days after 60 Minutes broadcast.
10:48:59am: "We currently believe that using China as a base of all aggregate costs...[and] producing those same products in Europe" would boost costs by 2%-4%. Producing those same products in North America would increase costs an additional 8%-15%.
10:47:17am: We expect to increase North American sourcing and/or increase our international product source diversification.
10:44:33am: "The primary driver of our gross margin since 2010 is...sales mix shifts...and...accessories."
10:44:08am: Eliminating all middle men "has allowed us to develop a direct relationship with the mills."
10:43:01am: Operating income remains the key performance metric of the company. Co. says it believes there's margin upside "from here."
10:41:00am: Visual look at LL headcount from slideshow:

10:39:59am: Proposition 65 is intended to address how products would actually be used -- not how it behaves in deconstructive testing.
10:39:02am: We have provided standard Prop 65 warnings. Any formaldehyde exposure are well below the California threshold.
10:38:56am: On lawsuit and short-selling funds: "These claims lack merit for two important reasons."
10:37:59am: "We believe the results of deconstructive tests have no bearing on the safety of the finished product."
10:36:10am: "There are many questions that need to be debated and addressed" about deconstructive testing.
10:35:59am: Deconstruction exposes areas of the product otherwise protected by different sections of wood when used in the home.
10:34:11am: When deconstructed by CARB (for testing purposes, not compliance purposes), some of LL's products did exceed formaldehyde levels.
10:33:45am: There's no way to know how deconstruction translates to the actual quality of the core material.
10:32:12am: Notes deconstructive testing is not required by CARB. It has not been adopted by any consensus standard bodies. The method is "rough" because it can "fundamentally change" the emission readings of the product.
10:31:00am: Company now discussing deconstructive testing, the test that 60 Minutes used.
10:30:20am: "These are all extra steps we take to make sure our products are safe. We view CARB...as the first step in our own safety protocols."
10:30:10am: We perform supplier site audits. "CARB doesn't require this, but we do it anyway."
10:30:01am: LL is one of the only retailers "we know" who operates its own CARB-style testing facility.
10:29:55am: "Lumber Liquidators is proud" of the "extra steps" it takes, in regard to safety testing.
10:27:27am: Our testing protocols have been misunderstood by many.
1. There is a test at the manufacturing level. "The minimum testing required by the CARB regulation.
2. "We have added a second" round of testing. Company randomly selects samples, and replicates the CARB testing.
3. Randomly select a sample of the finished product as it is prepared for sale.
10:25:05am: "Our suppliers are either themselves certified under California regulations...or represent that they source" wood from certified manufacturers.
10:23:24am: Slideshow on consumer sentiment: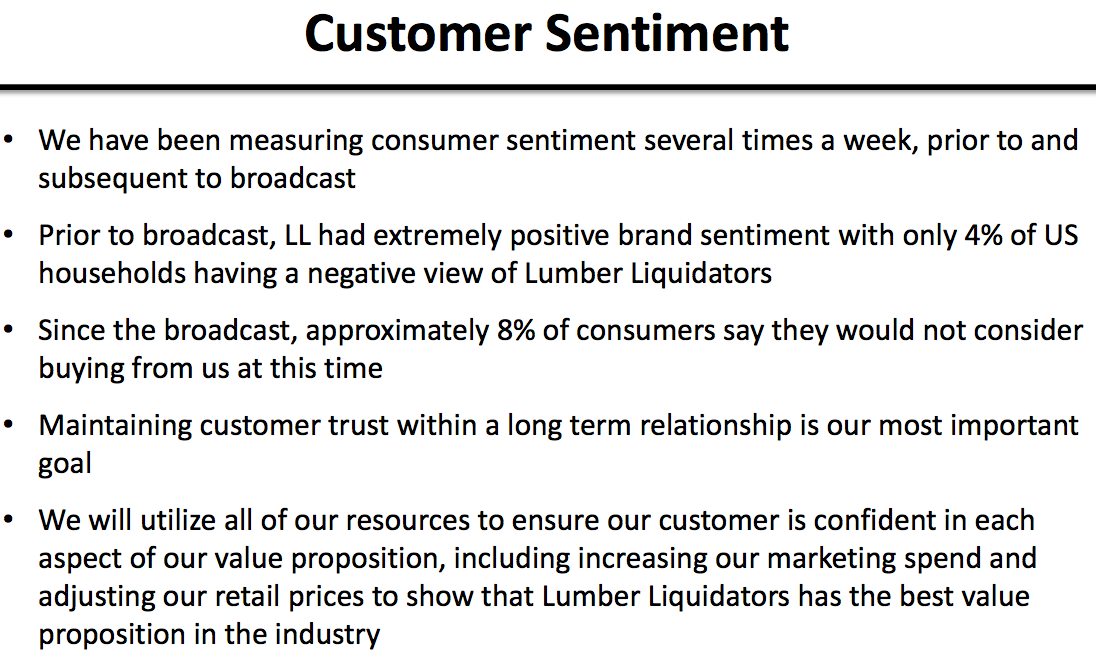 10:21:21am: Transcript from call shows company to "consider a reinstallation...expected to range from $3K-$4K per job."
10:19:18am: "We are confident that our product is safe." The regulatory process does not regulate how the finished product will act in the home.
10:19:18am: Formaldehyde levels are only a "tiny" percentage of the maximum thresholds.
10:17:17am: We are not the only company using formaldehyde based adhesives. "This is not a new unknown chemical."
10:16:12am: Formaldehyde emissions are a small level of the numbers discussed on the broadcast.
10:14:56am: "I want to reassure all of you...that we are confident that all of our products are safe, and none pose significant health products."
10:12:12am: Laminate product returns rose after the 60 Minutes broadcast. Net sales over following 9 days after interview fell 7.5%. Open orders still 12.6% higher than last year.
10:11:05am: Our call volume is normalizing (rose after the 60 Minutes broadcast)
10:10:30am: The goal of our customer service center has been information..."on the quality and safety of our products in general...customers who need additional assurance then go through a process that we'll talk about in a minute."
10:10:11am: Our average transaction includes 500sq ft of flooring...average laminate transaction uses slightly less sq feet than others.
10:07:45am: On products: "This is a legacy purchase that will pass" to families. "That's what gets us to wake up in the morning."
10:05:55am: Investors can send questions via email after the conference call.
10:05:01am: "We now believe we have a good sense of where we are."
09:52:46am: Lumber Liquidators Shares Halted News Pending
09:50:16am: CNBC's Scott Wapner Tweets: "$LL long investor Bob Chapman tells me just now as he waits for company conference call to begin that he's buying MORE stock "as we speak"
09:13:27am: Hearing the Test Done by '60 Minutes' Related to Lumber Liquidator's Flooring Not the Same Test Required by Regulators in California, according to CNBC.
08:51:56pm: Lumber Liquidators stock is up 5.1 percent pre-market.
08:43:11am: Lumber Liquidators Offers Q1 Outlook, Adds It Is 'Unable' To Provide Full Year Guidance
07:06:47am: Lumber Liquidators Says Stands Behind Products; Know They Are Safe
07:06:47am: Lumber Liquidators Expects Q1 Comps Down 4.4% to up 0.5%, Says Cannot Give Full Year Forecast
07:06:05am: Lumber Liquidators Sees Q1 Sales $253.6M to $265.6M, $276M est
07:05:15am: Lumber Liquidators 8K Filed
Related Reading
Image credit: Dwight Burdette, Wikimedia
Posted-In: News Events Best of Benzinga
View Comments and Join the Discussion!