Benzinga's M&A Chatter for Wednesday March 11, 2015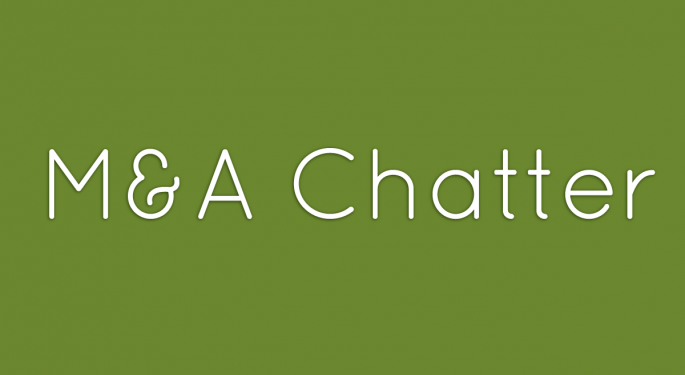 The following are the M&A deals, rumors and chatter circulating on Wall Street for Wednesday March 11, 2015:
KKR to Acquire Medical Group Holdings
The Deal:
Air Medical Group Holdings announced Wednesday, that funds managed by KKR & Co LP (NYSE: KKR), have signed a definitive agreement to acquire Air Medical from affiliates of Bain Capital and Brockway Moran & Partners. Financial terms of the transaction were not disclosed, although Reuters had reported Tuesday the deal would be valued at approximately $2 billion.
The transaction is expected to close in Q2.
KKR shares gained $0.05 Wednesday, closing at $22.87.
Hearing Unconfirmed Potential Mylan Bid from Teva
The Rumor:
Shares of Mylan NV (NYSE: MYL) spiked higher Wednesday, on unconfirmed market chatter of a potential bid from Teva (NASDAQ: TEVA)
A Teva spokesperson declined comment on the rumor. Mylan did not immediately respond to request for comment.
Mylan shares rose 6.5% Wednesday, closing at $59.00
>Endo Offers $175 in Cash, Stock for Salix
The Offer:
Endo International plc (NASDAQ: ENDP) announced Wednesday, that it has submitted a proposal to the Board of Directors of Salix Pharmaceuticals Ltd. (NASDAQ: SLXP), to acquire all of the outstanding shares of common stock of Salix in a cash and stock transaction valued at $175.00 per Salix share.
Salix previously entered a merger agreement with Valeant Pharmaceuticals International, Inc. (NYSE: VRX), dated February 20, 2015, under which which Salix stockholders would receive an amount in cash equal to $158.00 per share for each share of Salix common stock that they own.
Salix Board of Directors confirmed receipt of the Endo offer and plans to review and consider it.
Salix shares gained more than 7% Wednesday, closing at $169.62.
View Comments and Join the Discussion!