Will The Blackstone Group Grab This Iconic $1.5 Billion 'Trophy' Tower?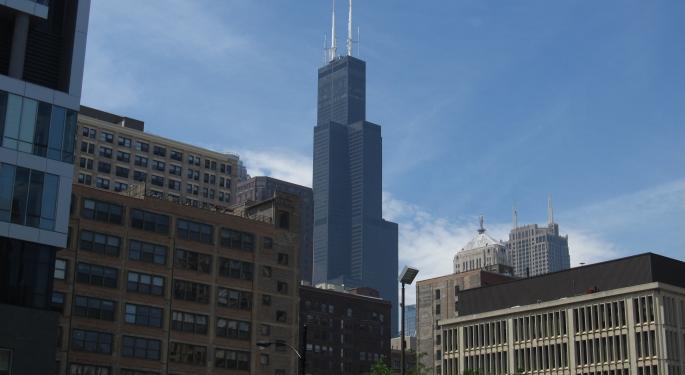 According to a detailed Crain's Chicago Business report that broke late on Friday, March 6, the world's largest alternative asset manager, the Blackstone Group LP (NYSE: BX), is looking to buy the tallest building in the U.S., Chicago's iconic 110-story Willis Tower, for a reported $1.5 billion.
Blackstone Trading Near 52-Week High
Blackstone's strong real estate performance helps set it apart from its private equity peers.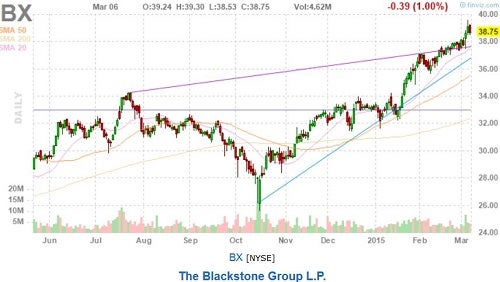 Blackstone has over $81 million of real estate assets under management (AUM) and recently contracted with RXR Realty to buy an approximate 50 percent stake in six NYC-area office buildings valued at $4 billion.
Related Link: A Flurry Of Real Estate Deals Suddenly Blankets NYC And New Jersey
Trophy Complex Covers City Block
Originally completed in 1973, the former Sears Tower building complex has its own zip code and post office. The property includes a 103-story Skydeck Chicago attraction, nine restaurants, a bank and a fitness center; to go along with the office, parking and valuable tower naming rights currently held by seller Willis Group Holdings PLC (NYSE: WSH).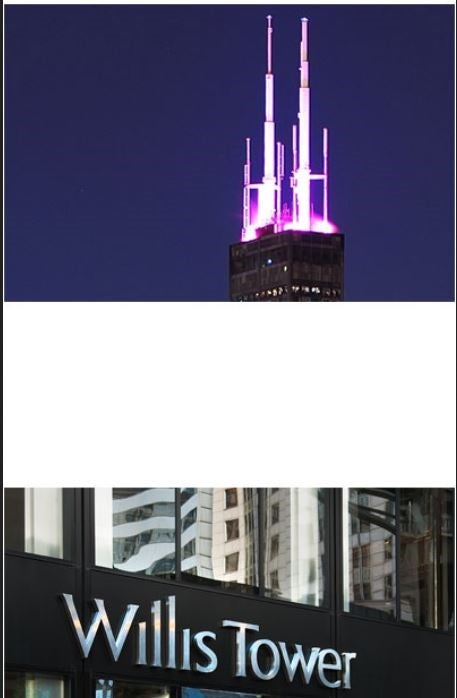 Source: Company website
Related Link: Sears: Now You See It; Now You Don't?
As it stands now, the 1,451 foot-tall structure is reportedly showing its age and may require $100 million in repairs and upgrades to better compete with more recent additions to the Chicago skyline. These newbies on the block include the 60-story 300 N. LaSalle St. built in 2009 and sold last year for $652/SF, 80-story Aon Center and the 100-story John Hancock Center building.
Sum Of The Parts Analysis
Crain pointed out that the $405 million John Hancock Center sale in 2013 was accomplished by finding buyers interested in the separate parts: Office and Parking Garage; Observatory; Retail and Restaurant; Broadcast Antennas.
In a similar fashion, Eastdil Secured, L.L.C., hired by Willis to market the property, has put together a sales book highlighting the revenue streams that could be generated by Willis Tower, including:
Skydeck Chicago – $28.8 million, (plus naming rights upside)
Broadcast Antennas – $11.1 million
Office/Retail/Restaurants – $48.7 million
Only Deep Pockets Need Apply
The building was reported to be 84 percent occupied. This means that in addition to a significant cap-ex budget for building retrofit upgrades and deferred maintenance, the new ownership group would likely be required to invest additional millions in upfront tenant improvements.
The operation and maintenance of a facility of this magnitude also could require huge sums of cash monthly for unbudgeted capital expenses. The scale of Willis Tower is actually a bit mind-boggling at 4.56 million gross square feet containing:
43,000 miles of telephone cables
1,500 miles of electrical wiring
25 miles of plumbing pipes
18,000 tons of cooling, (1,000 tons of condenser water)
Good Fit For Blackstone – Either Way
The challenges of 16 percent vacancy and the $100 million reported cap-ex required to stabilize and update the 42 year-old former Sears Tower into a world class trophy property may make Willis Tower a candidate for a traditional "buy it, fix it, sell it" Blackstone Real Estate Fund. However, that would also require that the projected IRR for the proposed acquisition meet a relatively high hurdle rate.
Recently, Blackstone has announced a new long-term buy and hold Core Real Estate Fund. The core real estate fund has a longer time horizon than a typical Blackstone 10-year closed-end fund, lower targeted IRR hurdle rates and a lower fee structure.
Related Link: Blackstone Just Bet On This Red Hot REIT Sector
Blackstone raised $3.5 billion during 2014 for this fund, which targets stabilized assets, in contrast to distressed real estate that requires the Blackstone "fix it" approach. Willis Tower, a once-in-a-generation trophy property, would appear to be a good long-term fit for Blackstone, either way.
In fact, this could be a property that ultimately ends up being a part of both Blackstone funds.
Image credit: Ken Lund, Flickr
Posted-In: 300 N. LaSalle St. Aon Center Crain's Chicago Business Eastdil Secured LLC John Hancock CenterRumors Asset Sales Real Estate Best of Benzinga
View Comments and Join the Discussion!