Benzinga's M&A Chatter for Thursday March 5, 2015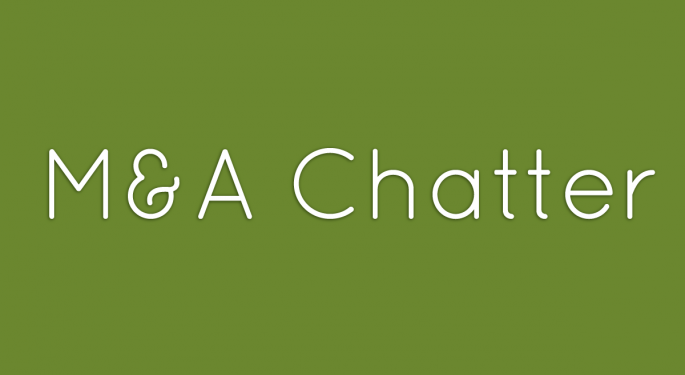 The following are the M&A deals, rumors and chatter circulating on Wall Street for Thursday March 5, 2015:
AbbVie to Acquire Pharmacyclics for $261.25/Share in Cash, Stock
The Deal:
AbbVie (NYSE: ABBV) and Pharmacyclics (NASDAQ: PCYC) announced late Wednesday, a definitive agreement whereby AbbVie will acquire Pharmacyclics for $261.25 per share comprised in cash and AbbVie shares. Through a tender offer, AbbVie will offer to acquire all of the outstanding shares of Pharmacyclics' common stock for $261.25 per share, consisting of approximately 58% cash and 42% AbbVie common stock.
The deal is expected to close in mid-2015.
Pharmacyclics shares gained more than 10% Thursday, closing at $254.22.
Ingersoll Rand Acquires FRIGOBLOCK for €100M
The Deal:
Ingersoll-Rand plc (NYSE: IR) announced Thursday, it has completed the acquisition of FRIGOBLOCK for €100 million..
The deal closed on March 4, 2015.
Ingersoll Rand shares closed Thursday at $67.68, a gain of 1%.
Citigroup Completes Sale of 9.9% Stake in Akbank for ~$1.15B
The Deal:
Citigroup Inc. (NYSE: C) announced Thursday, that it has sold 396 million common shares in Akbank through an equity offering representing its entire 9.9% equity interest in the company for proceeds from of approximately $1.15 billion.
Citigroup shares Thursday at $53.56, down $0.11.
Mallinckrodt Pharmaceuticals to Acquire Ikaria for $2.3B
The Deal:
Mallinckrodt plc (NYSE: MNK) and privately-held critical care company, Ikaria, announced Thursday, that Mallinckrodt will acquire from a Madison Dearborn-led investor group in a transaction valued at approximately $2.3 billion. The deal is expected to closed in early Q2 of 2015.
Mallinckrodt closed Thursday at $121.70, up $5.51.
Rumor of VF Corp Acquisition of Lululemon
The Rumor:
Shares of Lululemon Athletica Inc. (NASDAQ: LULU) rose Thursday, on unconfimred market chatter of a potential bid from V.F. Corporation (NYSE: VFC). The rumored offer is $84.00 per share in cash and stock.
Nike, Inc. (NYSE: NKE) has previously been mentioned as a possible buyer for the manufacturer of athletic apparel.
Spokespersons for Lululemon and V.F. Corporation did not respond to requests for comment.
Lululemon closed Thursday at $64.85, down $0.67.
Rumor of Navistar Acquisition Interest by European Automakers
The Rumor:
Shares of Navistar International Corporation (NYSE: NAV) surged higher Thursday on an unconfirmed rumor that several European automakers, including AB Volvo (OTC: VOLVY), Volkswagen AG (OTC: VLKAY) and Daimler AG (OTC: DDAIF) were considering a bid for the manufacturer of commercial trucks, buses, defense vehicles and engines.
Navistar declined comment on the rumor.
Navistar shares closed Thursday at $30.30, up $1.57.
View Comments and Join the Discussion!