Benzinga's M&A Chatter for Wednesday March 4, 2015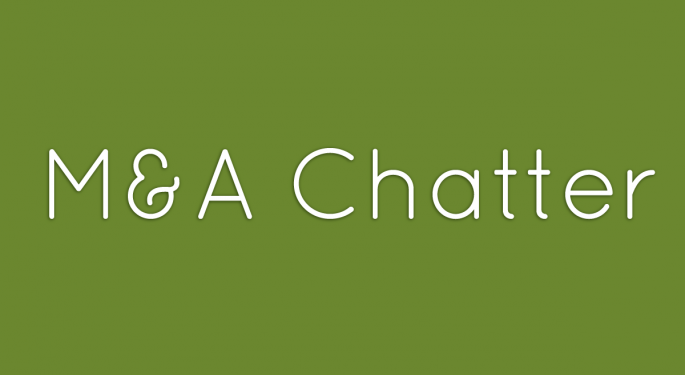 The following are the M&A deals, rumors and chatter circulating on Wall Street for Wednesday March 4, 2015:
Bain Capital, Golden Gate Reportedly Seeking Ann Taylor Deal
The Rumor:
Shares of ANN INC. (NYSE: ANN) surged higher Wednesday, on a report from Reuters that PE firms Bain Capital and Golden Gate Capital are competing to acquire the woman's retailer. The report says a deal is not a certainty due to a lack of available debt for buyouts of apparel retailers.
Spokespersons for Ann, Bain and Golden Gate declined comment.
Ann, Inc. shares gained more than 6% Wednesday, closing at $37.40.
Avago Sought Freescale Deal, Still Seeking Large Acquisition
The Rumor:
Shares of Avago Technologies Limited (NASDAQ: AVGO) rose Wednesday on a report from Reuters, that the Singapore-based semiconductor company had attempted to acquire Freescale Semiconductor, Ltd. (NYSE: FSL), but lost out to NXP Semiconductors NV (NASDAQ: NXPI), according to sources. The report said that Avago was still in the market for a large deal.
Call options in several related companies were active following the report, including Atmel Corporation (NASDAQ: ATML) and Linear Technology Corporation (NASDAQ: LLTC).
A spokesperson for Avago was not immediately available for comment.
Avago Technologies shares closed Wednesday at $129.40, a gain of almost 1%.
J&J Acquisition of Pharmacyclics Could be Announced Thursday
The Rumor:
Shares of Pharmacyclics Inc. (NASDAQ: PCYC) spiked as high as $248.49 after-hours Wednesday, on a report from Financial Times, that Johnson & Johnson (NYSE: JNJ) could acquire its Imbruvica partner. Bloomberg, which first reported on February 25 that Pharmacyclics was considering a sale, reported late Wednesday that a deal could be announced as early as Thursday.
Spokespersons for J&J and Pharmacyclics declined comment on the report.
Pharmacyclics closed the regular session Wednesday at $230.48, up $13.71.
EU Antitrust Regulators Set to Approve ZF Friedrichshafen's Acquisition of TRW
The Rumor:
Shares of TRW Automotive Holdings Corp. (TRW) NYSE spiked higher Wednesday, on a report from Reuters, that EU antitrust regulators are about to approve ZF Friedrichshafen's 13.5 billion takeover of the Livonia, Michigan company. This is a conditional phase 1 approval, according to a source.
TRW closed Wednesday $104.50, up $0.27.
Simon Approaches Macerich Regarding Takeover
The Rumor:
Simon Property Group Inc. (NYSE: SPG) has approached The Macerich Company (NYSE: MAC) in recent weeks, seeking a potential merger, according to sources as reported by the Wall Street Journal. That follows another approach in late 2014.
Simon disclosed a 3.6% stake in Macerich in November.
Simon hasn't made a formal offer for Macerich
TRW closed Wednesday $104.50, up $0.27.
View Comments and Join the Discussion!