Digital Realty CEO Bill Stein 'Talks SMACC' At Citi Conference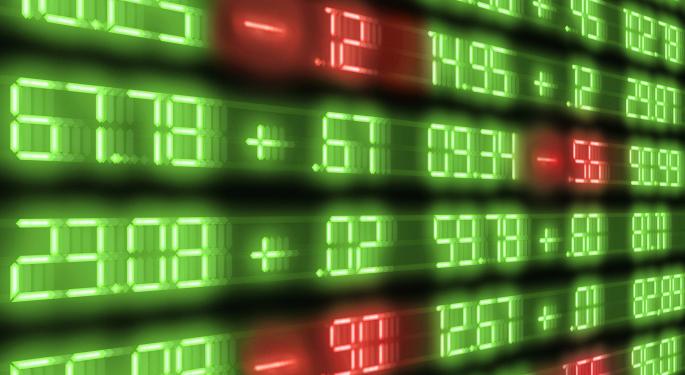 Digital Realty Trust, Inc. (NYSE: DLR) CEO Bill Stein on Monday answered questions, discussed industry trends and shared how he intends to guide DLR to where the puck is headed. Digital Realty is a $9 billion market-cap data center REIT that operates a 24.6 million square foot portfolio of 131 data centers located in 30 global markets serving over 600 customers.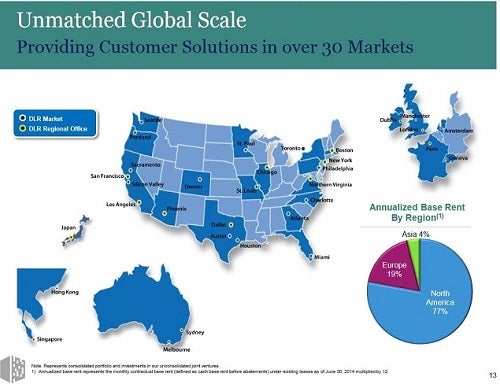 The DLR portfolio includes 1.3 million SF currently under development and 1.2 million SF held for future development.
5 Key Takeaways – Citi Conference
1. Growth Drivers – SMACC: There are five vertical markets that Digital Realty sees as most important to future revenue growth:
Social: Facebook continues its growth as a top 10 DLR customer; LinkedIn is growing rapidly and is expected to be a top 20 customers.
Mobile: The growth of wireless data, including the Internet of Things (IoT).
Analytics: "Big Data" is another new vertical growth market. Specifically, Stein felt that retailers will be the biggest contributor in this vertical segment.
Retailers are compiling a vast array of data on each consumer, in an effort to better predict consumer buying behavior in order to target mobile ads wherever the customer is shopping.
Content/Media: A relatively new vertical market for Digital. Stein gave Netflix streaming and Xfinity on-demand services as examples.
Cloud: Last, but clearly one of the largest contributors. Stein gave IBM's recent growth as an example of how the Digital customer mix is rapidly changing. Two years ago, IBM was not a top 10 customer. Fast forward to today, and IBM represents approximately 6 percent of revenues.
2. Digital Realty Advantages: In addition to growing through marketing to the SMACC vertical markets, there were two areas that Stein felt were competitive advantages versus its peers:
Digital Realty has a BBB investment grade rating from all three ratings agencies. This translates to a lower cost of capital for DLR compared to its peer group.
The ability for DLR to service its customer base on a global basis.
3. Edge Data Centers: The Digital management team discussed how the need for new, smaller "Edge" data centers was an emerging trend that could result in a material increase in demand for raised floor space.
These "Edge" data centers could act as a filter to screen out data that does not need to be analyzed or stored in the cloud.
This type of data center was not contemplated in the original deployment models of the largest "Hyper-Scale/Web Scale" operators.
Related Link: Why Stifel Believes Data Center REIT Digital Realty Is Now A Buy
4. Development Trends: Larger data center campuses such as Digital's Ashburn, Virginia are efficient and create an ecosystem that facilitates the ability for enterprise customers and cloud customers to exchange data.
On the other hand, Digital's PBB product will lose traction compared to the fully improved Turnkey data centers customers prefer today.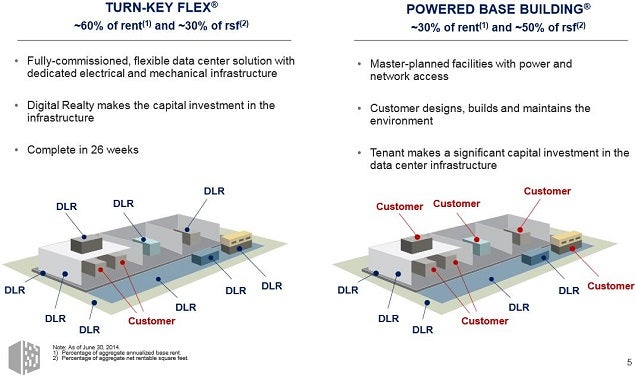 Additionally, Digital will begin to offer customers who do not require full "2N" redundancy new product offerings such as N+1, or N, at a lower price point. Less equipment will drive ROIC.
5. Growth By Region: During the next three to five years Stein anticipates these growth trends:
Asia/Pacific will grow from its current low base of 4 percent of revenue to 10 percent or more. Digital is currently "assembling the pieces" for a data center park in Singapore. Additionally, DLR may look to bring in a JV partner for a land parcel it owns in Japan, in part due to the low returns in Japan compared to other markets.
Europe: Stein expects future organic growth to decline compared to the North American market, due to continued economic weakness relative to the U.S.
Notably, organic growth for Digital includes new land up developments. Inorganic growth would be by portfolio acquisitions, which would be "opportunistic," according to Stein.
Posted-In: Bill Stein Citi Conference REIT XfinityREIT General Real Estate Best of Benzinga
View Comments and Join the Discussion!