Alibaba Shareholders Bracing For First Major Lockup Expiration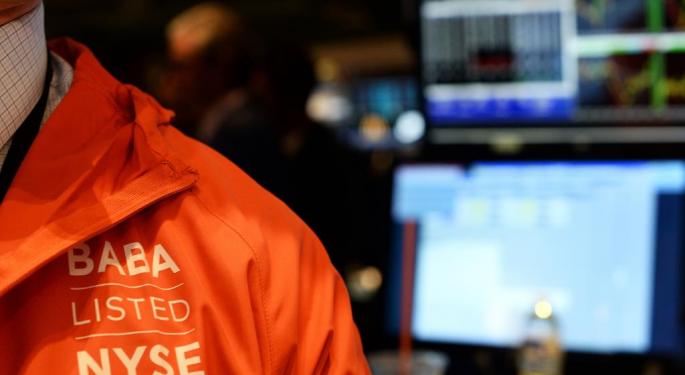 After a largely successful IPO on September 19, 2014, Alibaba Group Holding Ltd (NYSE: BABA) has taken shareholders on quite a ride. Unfortunately, there may be a major bump in the road coming later this month: the first major lockup expiration date.
Successful IPO Now A Distant Memory
The stock opened for public trading at a price of $92.70 per share, but by mid-November it had reached as high as $120, a nearly 30 percent gain.
However, in the months that have followed, Alibaba has drifted consistently downward, jumping below its original opening price of $92.70 after releasing disappointing Q4 earnings. The stock reached as low as $80.03 this week, losing nearly a third of its value from the November highs.
A Lot Of Shares On The Way
Alibaba shareholders are now bracing for the unlocking of a whopping 429 million shares held by Alibaba insiders and other investors that will take place in about two weeks.
Related Link: This 'Game Changer' Makes Wynn Citi's Top Casino Stock
To put that number in perspective, only 320 million shares were made available during the company's IPO. The March lockup will more than double the number of shares available for trade on the open market.
A Bad Sign
The unlocking that will occur in about two weeks is not technically the first Alibaba lockup expiration. On December 18, a relatively small 8.1 million shares of Alibaba stock became unlocked.
In the month following the first lockup expiration, Alibaba's share price fell more than 11 percent.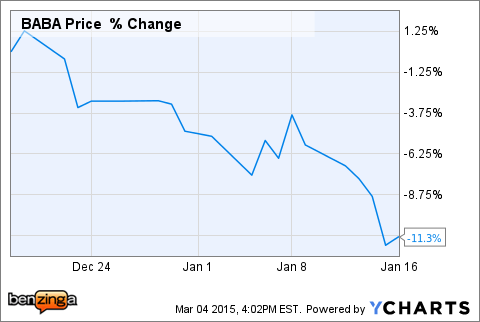 Although the March lockup expiration will certainly be a major hurdle for the stock to clear, it pales in comparison to the massive lockout expiration coming near the one-year anniversary of Alibaba's IPO. On September 20, 2015, about 1.6 billion shares of Alibaba stock will become unlocked for the first time.
In other words, five times as many shares of Alibaba stock will hit the open market in September 2015 than did during Alibaba's IPO in September 2014.
Lessons From Peers
Alibaba is not the first IPO blockbuster to suffer from lockout pressures.
Shares of Facebook Inc (NASDAQ: FB) and Twitter Inc (NYSE: TWTR) both produced negative returns in their first year of public trading, in part due to the massive number of unlocked shares.
Facebook eventually fell as low as 58 percent below its $42.05 opening price on the company's IPO date. However, once the stock had weathered the lockup expiration storm, it has since climbed to nearly double its original opening price.
Posted-In: News Short Ideas Previews Events Tech Trading Ideas Best of Benzinga
View Comments and Join the Discussion!