GasBuddy: Expect Aggressive Gasoline Price Increases In Weeks Ahead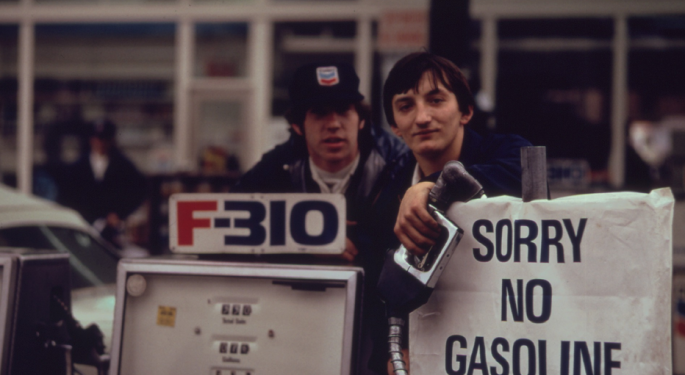 Every year around this time, gasoline prices go up as refiners transition from "winter blend" to "summer blend."
This year, however, according to GasBuddy senior petroleum analyst, Patrick DeHaan, "It's inevitable that retail prices will climb aggressively in weeks ahead."
Several factors lie behind current and coming price hikes.
Refinery Issues
The primary reason gasoline prices are going up has to do a variety of operational issues at refineries in five states, according to DeHaan.
Those issues, having mainly to do with maintenance and equipment problems, account for half (50 percent) of the increase in gasoline prices.
Shift To Summer Blends
About 30 percent of the price increase results from the annual shift from winter to summer blends.
Related Link: Kelley Blue Book Analyst: Gas Prices, Consumer Confidence Affected February Auto Sales
Reduced refinery output as equipment transitions to the summer "recipe" results in lower supplies of gasoline, which raises prices.
Seasonal Decline In Inventories
The overall seasonal decline in gasoline inventory – from all causes – accounts for 20 percent of price hikes.
The very fact that there is less gasoline available always causes prices to spike during the transition from winter to summer seasons.
What About The Steelworkers Strike?
Although, the United Steelworkers Union strike that began Feb. 1 has exacerbated operations at 12 refineries, according to DeHaan, the effect has been small.
In fact, DeHaan told Benzinga, "The strike has had no significant impact at all."
Falling Crude Oil Prices
The rise and fall of crude oil prices has long been connected – at least in the minds of consumers - to the price of gasoline.
The glut of crude that has driven oil prices down as low as $49.92 Thursday would, therefore seem to be a factor.
According to DeHaan, such is not the case this time.
"There is a big disconnect," DeHaan said, "because with refinery utilization down, meaning refineries are not through-putting as much oil, crude inventories rise while gasoline inventories tighten."
Volatility
In coming weeks, consumers may believe gasoline prices are rising out of control.
"Volatility is the name of the game right now and we expect that to translate into 10-cent increases in retail gasoline, week after week over the next two to three weeks, with larger, more immediate increases in West Coast areas," DeHaan said.
Still Better Than Last Year
In fact, according to DeHaan, although the run up in gas prices this year would likely beat that of last year, the overall impact would not be as great as consumers likely imagine.
Current average U.S. gasoline prices are $1.09+ per gallon lower than last year at this time.
That gap, DeHaan said, may close "an additional five to 15 cents per gallon," but would still leave average gasoline prices anywhere from 94 cents to $1.04 per gallon lower than last year, after all is said and done.
At the time of this writing, Jim Probasco had no position in any mentioned securities.
Image credit: Public Domain
Posted-In: BenzingaNews Commodities Previews Exclusives Markets Trading Ideas Interview Best of Benzinga
View Comments and Join the Discussion!