Benzinga's M&A Chatter for Tuesday March 3, 2015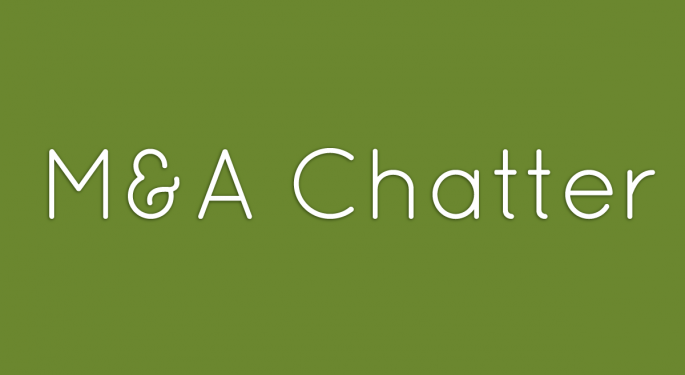 The following are the M&A deals, rumors and chatter circulating on Wall Street for Tuesday March 3, 2015:
Springleaf Financial to Acquire OneMain Financial in $4.25B Deal
The Deal:
Springleaf Holdings, Inc. (NYSE: LEAF) announced Tuesday, an agreement to acquire OneMain Financial from Citigroup (NYSE: C) subsidiary. CitiFinancial Credit Company, for $4.25 billion in cash. The deal is expected to close in Q3 of 2015, subject to regulatory approvals.
Springleaf shares gained 32% Tuesday, closing at $50.23. Citigroup shares gained $0.24, to close at $53.73.
Jiayuan.com Announces Receipt of 'Going Private' Proposal of $5.37/ADS
The Offer:
Jiayuan.com International Ltd. (NASDAQ: DATE) announced Tuesday, that its Board of Directors has received a preliminary non-binding proposal letter, dated March 3, 2015 from Vast Profit Holdings Limited proposing a "going-private" transaction involving the acquisition of all of the outstanding ordinary shares of the company not already owned by Vast Profit at a price per share of $3.58, or $5.37 per ADS in cash. Vast Profit acquired 8,003,763 ordinary shares of Jiayuan.com from Aprilsky Ltd., closing on on March 2, 2015.
The Board is forming a special committee of independent directors to consider the offer.
Jiayuan.com shares closed Tuesday at $5.19, a gain of 12%.
Smith & Nephew Acquires Colombian Distributor ECC
The Deal:
Smith & Nephew plc (NYSE: SNN) announced Tuesday, the acquisition of EuroCiencia Colombia, S&N's sole distributor for orthopaedic reconstruction, trauma and sports medicine products in Colombia since 2006.
Terms of the deal were not disclosed.
Smith & Nephew shares 7.5% Tuesday, closing at $34.10.
View Comments and Join the Discussion!