8 Damning Quotes From The 60 Minutes Exposé On Lumber Liquidators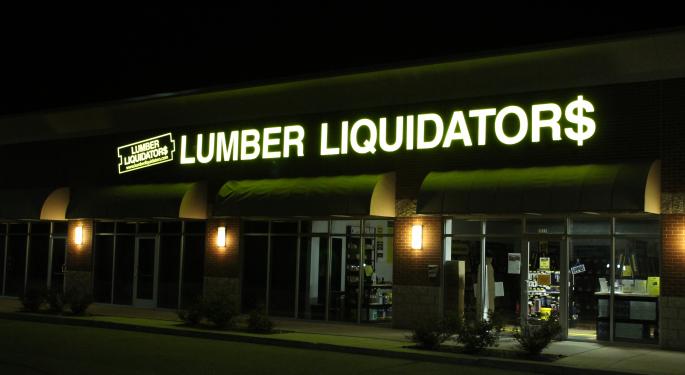 Lumber Liquidators Holdings Inc (NYSE: LL)'s stock fell almost 24 percent last week after management announced the company would be the subject of a 60 Minutes exposé on Sunday, March 1.
The investigative report has aired, and it's not pretty.
As Anderson Cooper explained on the broadcast, Lumber Liquidators' Chinese-made laminate flooring contains dangerous levels of formaldehyde.
Total exposure may be as large as 100,000+ U.S. homes, according to the program.
For those that missed the broadcast, here are some key highlights:
1. Cooper: "Lumber Liquidators is a U.S. company, but much of its laminate flooring is made in China, and as we discovered during our investigation, may fail to meet health and safety standards because it contains high levels of formaldehyde, a known cancer causing chemical."
2. Denny Larson, Global Community Monitor: "[I want the company to remove] every single board. At their cost and replace it with clean flooring...they're guilty of selling people product that could make them sick."
Related Link: What Morgan Stanley Said About Lumber Liquidators Last Week
3. Richard Drury, attorney: "There are probably tens of thousands of households in California that have installed Lumber Liquidators Chinese laminates that may exceed formaldehyde standards...nationwide it's probably hundreds of thousands."
4. Drury: "The average level in Lumber Liquidators products that we found was over 6 to 7 times above the state standard for formaldehyde. Some that were close to 20 times above the level that's allowed to be sold...It was so high, in fact, that one of our test labs thought their machine was broken."
5. Dr. Philip Landrigan: "Long-term exposure at that level would be risky because it would increase the risk for chronic respiratory irritation...it's not going to produce symptoms in everyone, but children will be most likely to show symptoms"
6. Whitney Tilson, hedge fund manager: "I've seen hundreds of companies do stuff to get their stock price up. This might be the worst."
7. Tilson: "[Lumber Liquidators is doing this because of] greed. Plain and simple. It's cheaper, and it reduces the cost by about 10 percent."
8. Cooper: "CARB 2 means it's compliant with California law, but listen to what a general manager [at a Changzhou mill] told us...all three mills said they falsely label these products as CARB 2 compliant. That's cheating."
Founder Tom Sullivan Responds
In the final segment of the interview, company founder Tom Sullivan had a few points worth keeping in mind:
"People have different reasons for this [failed] test. This is a group of lawyers who are suing us; selling short on our stock."
"Our goal is to sell a good product at a good price. We don't get the price by skimping on anything. We get the price by low overhead, huge volume and being very efficient at what we do. We're never going to sell something unsafe."
"We will investigate...If there is anything going on, we will stop it immediately. I don't know if it's true or not. I don't know what the whole story is, but we will investigate it immediately."
Twitter Reacts
As expected, much of the Twittersphere reacted to the report.
Based on @60Minutes reporting, it would suggest there is material weakness in your internal controls @hardwoodforless $LL

— Brian Sozzi (@BrianSozzi) March 2, 2015
#Timber! Lumber Liquidators $LL @hardwoodforless poised to tumble @ open based upon @60Minutes expose of formaldehyde laden toxic products.

— Adam Rubenstein (@arubenstein) March 2, 2015
Some were talking social sentiment:
$LL social sentiment on Twitter from iSense pic.twitter.com/cFHNhpNfnI

— CalConfidence (@CalConfidence) March 2, 2015
Lumber Liquidators is the top trending ticker on StockTwits right now. And all because of 60 Minutes -> http://t.co/bovRvnmxeC $LL

— StockTwits (@StockTwits) March 2, 2015
And because of one tweet, Lumber Liquidators responded:
@BrianSozzi There is not a single, documented case of a person becoming ill by our product. For more info: http://t.co/jQ7LKz5k6Z

— Lumber Liquidators (@hardwoodforless) March 2, 2015
Image credit: Dwight Burdette, Wikimedia
View Comments and Join the Discussion!
Posted-In: 60 minutes Anderson Cooper Brian Sozzi Carb 2News Crowdsourcing Events General Best of Benzinga