Fed Rate Hike Predictions Get Even Murkier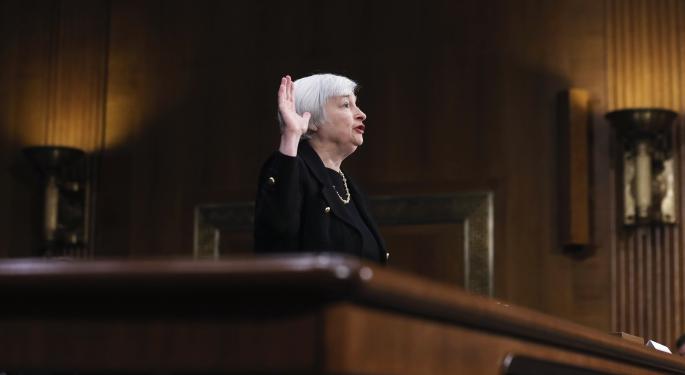 Analysts have been betting on when the Federal Reserve will raise its key interest rates ever since the U.S. central bank began tapering its controversial bond buying plan in 2014.
While many were expecting a rate hike as early as next month when the year began, most have pushed their forecasts back in light of dovish comments from the Fed and questionable economic indicators.
Conflicting Statements
Last week, Fed Chair Janet Yellen reassured markets that the bank was planning to proceed with caution in regard to a rate hike. As usual, Yellen said the bank will allow economic conditions to determine when rates can be increased, saying the decision will be re-evaluated at every FOMC meeting.
However on Friday, Fed Vice Chairman Stanley Fischer made some waves among investors after commenting on the bank's plans going forward during a monetary policy conference in Chicago.
Fischer remarked that it may be counterproductive for the bank to give markets too much forward guidance when it comes to raising interest rates.
His comments could indicate that the bank will not provide much warning once they've made a decision about the timing of a rate hike. Fischer also confirmed that the bank was planning to raise rates some time in 2015.
Shifting Projections
Forecasts for the timing of a rate increase have become increasingly cloudy as the bank's rhetoric suggests that even the central bankers themselves are unsure about when to act.
Economists at JP Morgan are betting on a September hike, but others are more optimistic with June forecasts.
Related Link: Federal Reserve To Proceed With Caution
Data To Be The Market Focus
Although no one can be sure of when the bank will act, investors will be keeping a close eye on the spate of data due out this month for a better picture of the U.S.' economic health.
Fourth quarter GDP figures out last week showed that the U.S. economy didn't improve as quickly as economists had predicted; the report showed that the U.S. economy grew at a 2.2 percent annual pace, lower than the 2.6 percent most had forecast.
Despite disappointing fourth quarter GDP figures, most expect that the U.S. economy will continue on a positive trajectory through the first quarter.
This week will be packed with valuable economic data that will provide some insight into the nation's first quarter performance, but the most closely watched release will be the Labor Department's unemployment report— due out on Friday.
The figures will give markets a better idea about the state of the U.S. labor market, a good indication of the pace of the nation's of recovery.
Posted-In: Federal Reserve Janet Yellen Stanley FischerPolitics Top Stories Economics Federal Reserve General Best of Benzinga
View Comments and Join the Discussion!