5 Luxury Brands That Millionaires Love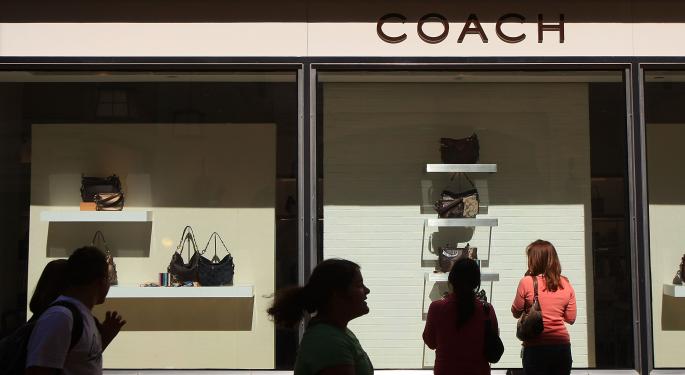 If there is one thing millionaires know, it's luxury. Luxury, lifestyle, and … wait for it … Luxottica?
I thought it would be interesting to take a closer look at our database of sophisticated retail investors to zero in on the luxury names they buy. In the Apparel, Accessories, and Luxury Goods subsector, which consumer discretionary stocks do our millionaire investors hold?
Here are the top five luxury brands that TD Ameritrade clients are investing in:
1. Michael Kors (MYSE: KORS)
Our millionaires alone have over $60 million invested in this retailer. KORS now has a market cap of almost $14 billion and a 12-month revenue of $4.2 billion. Perhaps the best way to explain why this retailer is taking top honors with our clients is its comparative revenue growth: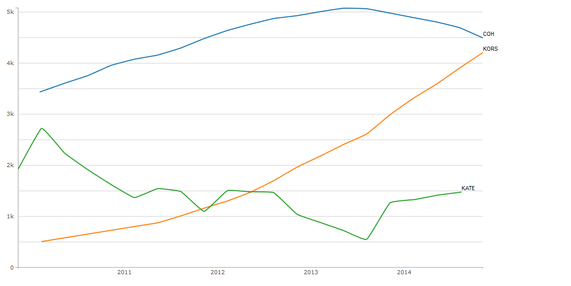 Above: Trailing 12-Month Revenue (in Millions) for Coach, Michel Kors, and Kate Spade. Source: Capital Markets Labs. For the period 1/1/10-2/23/15, for illustrative purposes only.
2. Coach (NYSE: COH)
This retailer struggled a bit in the near term but has recently made changes to executive management and strategic acquisitions. Our base continues to hold, but not necessarily accumulate, Coach.
3. Luxottica (NYSE: LUX)
Late last summer, while brunching with my girlfriends al fresco in NYC, I noted what everyone was wearing to shield the sun. Present brands were: Tiffany, Tory Burch, and Burberry, plus two each of Chanel and Prada. The common denominator? All were made by Luxottica. Young women are spending more and more on sunglasses as an accessory. The Chanel midpoint price for sunglasses is around $300. These aren't just sunglasses, they are eye pieces.
4. Kate Spade (NYSE: KATE)
KATE earnings will post before tomorrow's open on February 24. This retailer recently announced a wind-down of their down-market brands to focus more on the Kate Spade core brand. At the same time, the Kate Spade line has rolled out more higher-margin frocks and baubles by continuing to build out the Madison Avenue brand. After five years of fits and starts with strategic direction, it looks like KATE has finally charted its course. According to our thinkorswim Market Maker Move, the options market predicts a $1.87 earnings move in either direction.
5. Louis Vuitton (OTC: LVMUY)
Last year on a business trip to Singapore, I chatted up the girls in the office to learn about spending habits of women in south Asia. I learned that when young women graduate from college and get their first job, the first two paychecks are already earmarked—the first one for designer shoes and the second for a luxury handbag. Louis Vuitton is a highly coveted brand in Asia and in the US.
But here's the "kicker". The number one stock millionaires really love in this subsector is not a luxury brand at all. It's Under Armor (UA). In fact, our millionaire clients alone have an astounding $80 million invested in Under Armor.
Disclosures:
Probability analysis results from the Market Maker Move indicator are theoretical in nature, not guaranteed, and do not reflect any degree of certainty of an event occurring.
Commentary provided for educational purposes only. Inclusion of specific security names in this commentary does not constitute a recommendation from TD Ameritrade to buy, sell, or hold.
Investing involves risks, including loss of principal. Past performance is no guarantee of future results.
Supporting documentation for any claims, comparison, statistics, or other technical data will be supplied upon request.
Posted-In: News Retail Sales Opinion Exclusives Trading Ideas Best of Benzinga
View Comments and Join the Discussion!