The 5 Highest-Grossing Best Picture Winners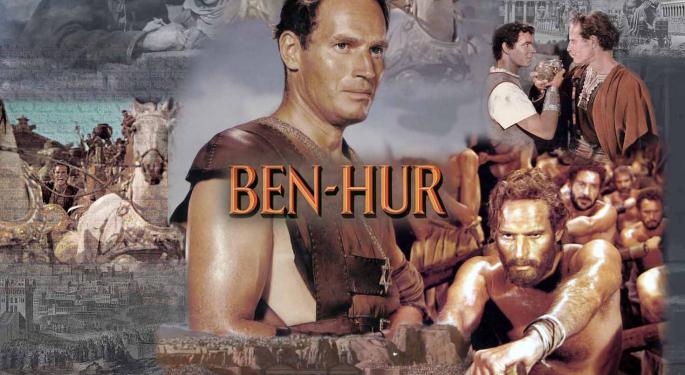 People from all over the world will be watching the 87th Academy Awards ceremony.
In the past, Best Picture winners were, on many occasions, among the highest-grossing pictures of all-time. So which five winning flicks were the highest grossing of all?
Adjusted for inflation, here are the highest-grossing Best Picture winners, according to Box Office Mojo.
Related Link: 10 Numbers To Know Ahead Of The Oscars On Sunday
5) The Sting
This 1973 movie produced by Universal Studios, a studio owned by Comcast Corporation (NASDAQ: CMCSA), grossed $156,000,000 in the United States. Adjusted for ticket price inflation, the total box office collection reaches $739,885,700.
4) Ben-Hur
This Metro-Goldwyn-Mayer (MGM) movie grossed $74,000,000 in 1959, which equates to $813,400,000 in 2015 dollars.
3) Titanic
The juggernaut that recreated the Titanic trip and catastrophe won the Oscar for best film in 1998. The James Cameron-led film broke numerous records, among them: the first movie to ever gross more than a billion dollars (worldwide) and tying "Ben-Hur" for the most Oscars won by a single film (11).
Domestically, the film grossed $658,672,302, which is equivalent to $1,124,438,100 in 2015.
"Titanic" was produced by Paramount Pictures, a subsidiary of Viacom Inc. (NASDAQ: VIA) (NASDAQ: VIAB).
2) The Sound of Music
21st Century Fox's (NASDAQ: FOXA) (NASDAQ: FOX) "The Sound of Music" premiered in 1965. The movie raised $158,671,368 in the U.S. box office, which equates to a current figure of $1,182,047,600.
1) Gone With the Wind
The MGM classic from 1939 grossed $198,676,459. Adjusted for inflation, the number rises to an astonishing $1,676,970,400. At the 1940 Academy Awards, the film received 13 nominations and won 10 prizes (eight competitive, two honorary), including those for Best Picture, Best Director, Best Adapted Screenplay and Best Actress. The movie also made Hattie McDaniel (Best Supporting Actress) the first African-American to ever win an Academy Award.
And by taking a closer look at this year's nominees, "American Sniper" has grossed more than its competitors...combined.
Image credit: Karen, Flickr
Posted-In: Academy Awards Ben-Hur Box Office Mojo Gone With the Wind Metro-Goldwyn-MayerTopics Events General Best of Benzinga
View Comments and Join the Discussion!