The Greece-Eurogroup Situation: A Play-By-Play Recap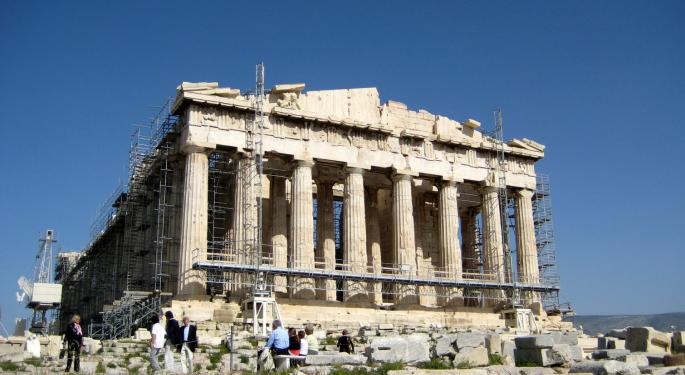 'Grexit' is trending in the markets on Friday after Eurozone finance ministers continue to discuss a Greek extension in Brussels.
What is known so far is this: Greece already has a two-month extension on its loan agreements with the ECB, and some expect a new extension to be for an additional four months.
A Eurozone presser is schedule for 2:00pm EST, which could provide more insight into the situation. Below is a live blog of updates.
Further reading
Eurogroup statement Word Cloud.
03:30:54: Presser ends.
03:16:11pm: Dijsselbloem: 6-month time frame offers ability to work on future financing needs.
03:14:36pm: Floor open for questions.
03:12:12pm: Lagarde gives schedule going forward.
Monday night: Assessments by institutions
Tuesday: Validation by Eurogroup
End of April: Parties have to agree to final list of reforms they have to undertake. 'Define the bridge' going forward.
03:10:22pm: Lagarde: 'It's more difficult to create trust than it is to lose trust, and building trust is what we've been trying to do over the past three weeks..that's something to build on.'
03:09:33pm: Christine Lagarde: A permanent agreement 'will not be easy...we can reach a common understanding and it is clearly a common understanding to do so.'
03:08:54pm: Moscovici: 'Good faith is a major issue required to build trust in this situation'
03:05:59pm: 'This agreement enables the new Greek authorities to implement part of the changes they wish to [do]'
03:03:30pm: We 'have to be logical, not ideological'
03:02:58pm: 'We worked very hard this evening to reach an agreement...we always said: 'We have to reach an agreement'...we succeeded.'
03:02:02pm: 'This is a very positive outcome...it will help..to get back on track.'
03:00:11pm: 'We have agreed to extend ESF for the purpose of bank recapitalization in Greece'
02:56:55pm: Dijsselbloem says 'tonight was first step in rebuilding trust...work over the last weeks have paid off, we have established common ground again'
02:55:47pm: Presser begins
02:44:25pm: Schelling: Greece must meet conditions to be listed on Monday.
02:43:24pm: Austrian FinMin Schelling: Eurogroup has agreed on 4-month extension for Greece.
02:43:00pm: Eurogroup conference in Brussels expected to begin in 10 minutes.
2:37:44pm: Reuters reports Greece, Eurozone finance ministers reach a 4-month extension deal on a Greek bailout.
2:10:19pm: Price update..Greek-related shares soar on possible bailout breakthrough.
1:59:04pm: US dollar futures are rising slightly ahead of the expected press conference. S&P 500 futures also up.
1:55:15pm: Global X Funds (NYSE: GREK) is at $14.25, SPDR S&P 500 ETF Trust (NYSE: SPY) is at 210.61, National Bank of Greece (ADR)(NYSE: NBG) is at 1.96 and Alpha Bank A.E. (ADR)(OTC: ALBKY) is at 0.13.
Further Reading
Image credit: Ryan's World, Wikimedia
View Comments and Join the Discussion!
Posted-In: News Eurozone Events Econ #s Economics Markets Best of Benzinga