Retail's Appetite For Shake Shack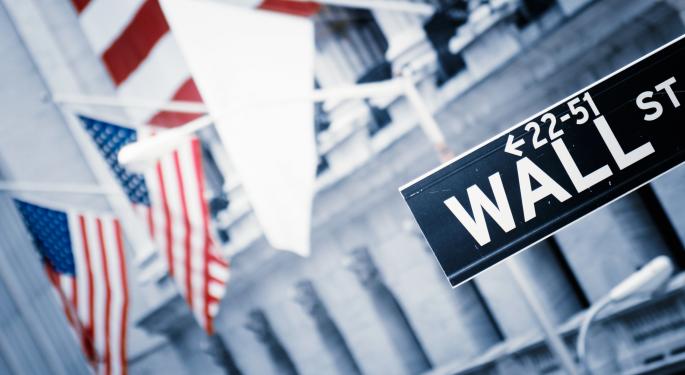 It was Super Bowl 2012. My NYC apartment, located near Madison Square Park, was packed with great friends all anxiously hoping for a Giant's win against the Patriots.
I'm known for theme cocktails at my Super Bowl parties. That year was the Manningtini (limit two per guest) and the Victor "Booze" Cruz. According to my entertaining playbook, Super Bowl calories don't count. They're just like airport calories.
I always strive to have a lineup of treats for my friends that rival the game's starting lineup—particularly because they need a little nourishment after a few Manningtinis.
That year I outdid myself. We were approaching the end of the first quarter. I jumped online and pulled up the Madison Square Shake Shack web camera. That's right. They have a web cam because the line often snakes all the way across a city block.
People wait up to an hour for a burger. Talk about demand! But, on the day of the Super Bowl, the line was almost nonexistent because everyone in NYC was watching the Giants.
I slipped out the door, sprinted across the park, and was back to my apartment in just under 20 minutes with burgers and fries for my guests.
I remember the conversation that night with my Wall Street friends. "Can you imagine if Shake Shack goes public? That would be epic." Or would it?
In general, IPOs attract a ton of retail trading interest and engagement. They bring new entrants into the markets. And, after a big IPO, we also see dormant accounts reengage.
Google has a cool feature that allows you to track how many people search for "IPO" over time. As you can see below, Facebook's IPO generated the most interest in the past decade. That's not shocking considering the massive Facebook user base.

Figure 1: Chart of Google search interest over time for the term "IPO." Numbers represent search interest relative to the highest point on the chart. This does not convey absolute search volume. For illustrative purposes only
I can usually assume that the IPO company of the day will be the #1 traded stock for our retail client base. That was the case for most of the big IPOs. But Shake Shack Inc (NYSE: SHAK)? It was only #8 on our top traded stocks that day. It appears that our clients were kind of "meh" about the whole thing. In fact, it was only 1% of that day's total trades. Compare that with:
Total Trades on First Day Of Trading in the Secondary Market
Facebook 22%
Alibaba 11%
GM 7%
LinkedIn 5%
Twitter 4.4%
Groupon 4.3%
Pandora 3%
Zynga 2.54%
Dunkin Donuts 2%
El Pollo Loco 1%
Shake Shack 1%
Potbelly 0.75%
Not only was Shake Shack a lot less appealing to retail investors than most recent IPOs, but of those who bought it, only about a third of the clients that traded it are still holding it today.
Why? Domestically, Shake Shack only has 36 locations with 18 of those stores in New York, Connecticut, and New Jersey. I hit our database to see which clients are invested in SHAK. Not surprisingly, our Shake Shack investors are heavily concentrated in New York, Vermont, and New Jersey. The high concentration of regional investors seems to back up the "trade what you know" adage.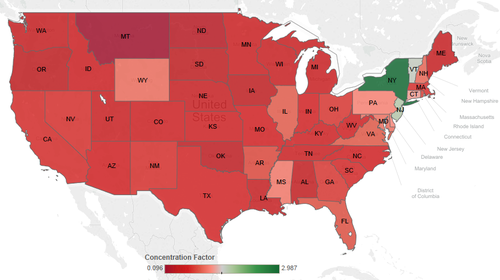 Figure 2: TD Ameritrade client concentration of SHAK investment. Concentration Factor = (State % Share of SHAK Trading Clients) / (State % Share of TD Ameritrade Clients). For example, New York has about three times the percentage share of SHAK trading clients compared to their share of Funded Accounts.
Here's what else I learned. Our Shake Shack investors skew younger than our average client. In addition, the male/female concentration was slightly more skewed to men than our general distribution. The average position size for our Shake Shack investors is about 6% of their portfolio, so those holding it appear to be pretty devoted.
Retail clients know the Restaurants Sub Industry exceedingly well. So it begs the question: if retail wasn't interested in Shake Shack…what stocks do they like in this sector? Below is a list of top ten restaurants held by retail clients (as defined by number of accounts holding at least one share).

It's worth mentioning that, on average, our clients have the most conviction with Buffalo Wild Wings and Starbucks in terms of overall position size. Clearly, our retail clients are hungrier for something other than SHAK, at least on a national level.
Disclosures: Commentary provided for educational purposes only. Inclusion of specific security names in this commentary does not constitute a recommendation from TD Ameritrade to buy, sell, or hold.
Stock investing involves risks, including loss of principal. Past performance is no guarantee of future results.
Posted-In: News Technicals Retail Sales Restaurants Opinion Top Stories Economics Trading Ideas Best of Benzinga
View Comments and Join the Discussion!