American Firms In China Feel Anti-Foreign Sentiment Rising In The Wake Of Qualcomm Settlement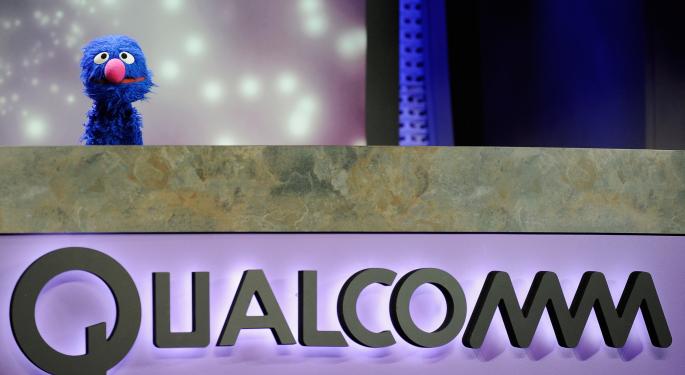 QUALCOMM, Inc. (NASDAQ: QCOM) is the latest U.S. firm whose Chinese operations are under fire from Chinese regulators claiming the company is violating anti-trust laws.
After a 14-month dispute over the company's business practices, Qualcomm has agreed to pay $975 million in fines to the Chinese government, the largest corporate fine the nation has ever assigned.
Underlying Motive
While Chinese officials claim the electronic chip maker has violated the nation's anti-competition laws, many believe the real reason for the investigation was more complicated.
Qualcomm's chips, which connect smartphones to wireless Internet, are patented and require smartphone companies to pay hefty royalty fees.
However, part of the deal to settle the anti-trust accusations included Qualcomm lowering those fees, something that will benefit domestic phone makers like Xiaomi Technology Co Ltd and Huawei Technologies Co Ltd.
Regulators Target Foreign Firms
The Qualcomm probe is not the first time foreign firms have complained that China was using murky regulations in order to give domestic companies an edge. Microsoft Corporation (NASDAQ: MSFT), Johnson & Johnson (NYSE: JNJ) and Volkswagen AG have all suffered similar claims of "monopolistic behavior" in the past.
U.S. Companies See Anti-Foreign Sentiment Rising
The accusations and accompanying fines could turn out to hurt China more than the foreign firms the nation is targeting. A survey by the American Chamber of Commerce in China showed that the majority of member companies feel there is a rising anti-foreign sentiment among government officials.
Of the nearly 500 companies polled, 31 percent said they weren't planning any fresh investment in the coming years, a significant rise from previous years' figures and the highest percentage since 2009 when the global financial crisis began.
Related Link: Tech Editor: Watch China-Related News On Tesla Earnings Call
Opportunities Overshadow Risks
While 47 percent of the companies from the Chamber poll claimed they felt less welcome this year than last, more than 60 percent said they still believe that China is one of the top three investment destinations.
The nation's growing middle class and economic revival has made it an important part of companies' global strategies, despite worries about corporate regulations.
View Comments and Join the Discussion!
Posted-In: American Chamber of Commerce in China China Huawei Technologies Volkswagen AGNews Legal Global Markets Best of Benzinga