Obama Just Created New Questions For Drug Makers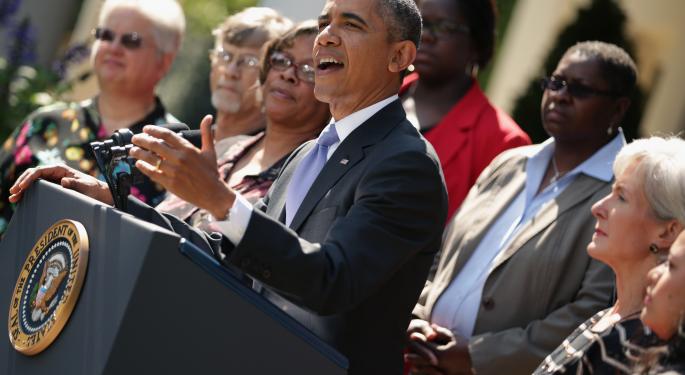 Want an edge on stocks like ABBV and GILD? Try this.
Learn more about investing in the biotech sector with real-time trading picks from experts like the Biotech Trader.
In an effort to bring down Medicare costs and make health care more affordable in the U.S., President Barack Obama has included a proposal that permits the U.S. Secretary for Health to negotiate the price of high-cost drugs in his 2016 budget.
The change in policy is likely to spark a debate among congress members over whether the government or market forces should determine prices.
The Heart Of The Issue
Essentially, the negotiations are designed to protect people from paying exorbitant prices for necessary drugs. However, the drugs are typically difficult to manufacture and patents allow drug companies to sell their offerings at a premium if it is the only one on the market.
Pharmaceutical lobbyists complain that the President's decision would cut down on companies' willingness to produce such drugs as their patent protection would decrease.
Gilead's Price Pressure
This is not the first time that high-cost drug manufacturers have felt the pressure to cut their prices. Gilead Sciences Inc. (NASDAQ: GILD) was in the spotlight in late 2013 when insurance providers complained about the cost of its hepatitis C drug Sovaldi.
At the time, Sovaldi was the only treatment of its kind for the disease, allowing Gilead to charge a premium. However, When AbbVie Inc. (NYSE: ABBV) introduced its own version of the drug, Gilead bowed to pressure and announced it would discount the drug by around 45 percent in 2015.
The Gilead example proves that market pressure and innovation are necessary in order to advance the field; but many companies, especially those that specialize in tailoring their treatments for a niche group of patients, are able to charge impossible rates for drugs that they hold patents to.
Those companies could feel the squeeze if the President's initiative makes it through congress.
Related Link: Good News For Apple Watch: FDA Steps Back From App Regulation
Support For Precision Medicine, Not Prices
Obama has pledged to support the development of precision medicine by investing $215 billion next year in tailor-made drug treatment research.
Many companies are working to create gene-specific cancer treatments and bio-engineered drugs that treat a certain segment of the population, but many worry that the increased investment wont be enough to counteract the negative impact of government intervention in treatment pricing.
Posted-In: 2016 Budget medicareHealth Care Politics Top Stories General Best of Benzinga
View Comments and Join the Discussion!