Immersis Brings Virtual Reality To The Living Room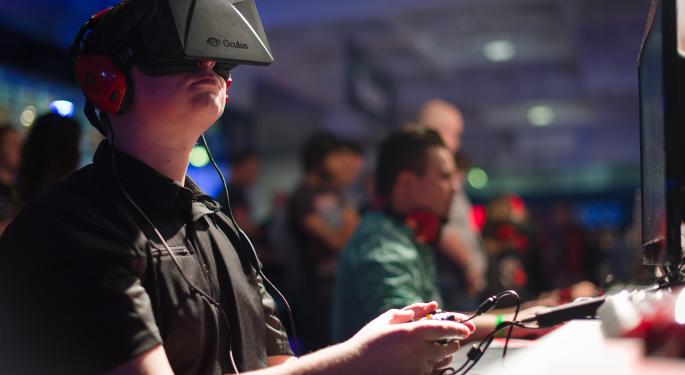 Who will be the next Apple? What company with what disruptive idea will turn the world of technology upside down? In this series, Benzinga interviewed CEOs of several technology startups that are making waves today in hopes of making a difference tomorrow.
"Unless you want your friends to laugh at you, you don't really want to be seen wearing a VR headset," Catopsys President, co-founder and developer of the Immersis VR projection system, Daniel Duhautbout told Benzinga.
Immersis solves that bit of social awkwardness by moving virtual reality from headset to living room, instantly turning VR into a shared group experience.
EXCLUSIVE: This Company Is Bringing Supercomputers To Your Pocket
Solving The Perspective Problem
Duhautbout explained that the primary scientific challenge involved in creating a projection VR experience like Immersis called for "calibrating the system to display the right information at the right place in the projection space, and thus recreate the proper perspective from the user's point of view."
The process gets very technical very fast, but involves a calibration file used to create an anamorphic (deformed) 180-degree image in real time.
How Immersis Works
The room or area where the projection takes place is called the Immersive Space. According to Duhautbout, the first step is to create a 3D model of that space.
"For this," he said, "we've created a configuration tool [...] that allows you to either describe the dimensions of the space or import a 3D model."
The Immersis system, Duhautbout said, then makes a calibration file that is used as a basis for the anamorphosis (deformation) of the image.
Overcoming Oculus' Shortcomings
What separates Immersis from VR headsets such as Facebook Inc's (NASDAQ: FB) Oculus Rift is the way in which it addresses some of the shortcomings of those devices.
Duhautbout said that VR headsets are extremely intrusive. In addition, they can be heavy, cause discomfort for eyeglass wearers and have a limited battery life, unless attached by a cable.
"Try drinking a soda wearing a VR headset," he said.
Most important, he said, is the fact that Immersis allows users to share the VR experience with others and in complete comfort.
Integration Possibilities
Immersis could easily be integrated with systems such as Leap Motion, Duhautbout said. In addition, it compliments augmented reality systems like Microsoft Corporation's (NASDAQ: MSFT) HoloLens.
"Immersis can also integrate TV screens into the projection space," he noted, adding, "these technologies can be used by developers to manage multiple/different medias."
This infographic illustrates that point.
Movies And More
Duhautbout also pointed out that Immersis could project 180-degree and 360-degree movies, videos and images.
He noted the arrival of panoramic cameras like the Giroptic, whose images could be viewed in Immersis.
Coming Attractions
In addition to gaming and home entertainment, Duhautbout said he sees Immersis as having tremendous potential in a number of different areas.
Among spaces he said could be most promising, urban planning and real estate, training and simulation, treatment of cognitive disorders linked to age, retail buying and even as a tool to enhance sports training or the gym and workout experience could all significantly benefit with this technological innovation.
Related Link: Exclusive: Leap Motion Introduces Touch-Free Computing
Developers Welcome
Finally, Duhautbout noted that the software and technology were developed to be open.
"We are counting on our Solutions Providers," he said, "to develop and test new uses made possible by combining their technology with Immersis."
At the time of this writing, Jim Probasco had no position in any mentioned securities.
View Comments and Join the Discussion!
Posted-In: 3D Catopsys Daniel DuhautboutTop Stories Startups Exclusives Tech Interview Best of Benzinga