Benzinga's M&A Chatter for Thursday February 5, 2015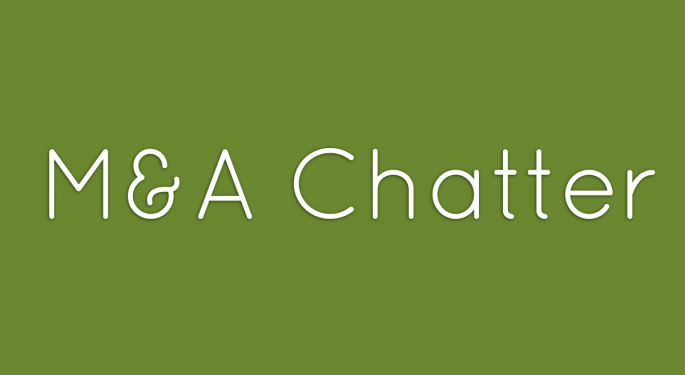 The following are the M&A deals, rumors and chatter circulating on Wall Street for Thursday February 5, 2015
Rumor of Comcast Bid for Netflix
The Rumor:
Shares of Netflix (NASDAQ: NFLX) rose Thursday on unconfirmed market chatter of an offer from Comcast Corporation (NASDAQ: CMCSA) of $560 per share. Netflix shares rose about $5.00 on the rumor, before settling back.
Spokespersons for Netflix and Comcast were not available for comment.
Netflix shares lost Thursday, closing at $446.80
Intuit Acquires Porticor
The Deal:
Intuit Inc. (NASDAQ: INTU) has acquired cloud-based security company Porticor, as reported on the Porticor website. Lazarus Israel Opportunities Fund was a major investor in Porticor.
Intuit shares gained 1% Thursday, closing at $91.64
CTPartners Gets $7.00/Share Bid from DHR
The Rumor:
Shares of CTPartners (NASDAQ: CKSW) spiked higher Thursday, on a report from the New York Post, that DHR International sent the CTPartners Board a letter on February 4 with a $7.00 per share cash offer.
DHR Chairman David Hoffman, told the Post that CTPartners CEO Brian Sullivan, originally rejected a verbal offer made during a telephone conversation. A CTPartners spokesperson was not available for comment.
CTPartners shares gained more than 11% Thursday, closing at $6.17.
E2open to Be Acquired By Insight Venture Partners for $8.60/Share in Cash
The Deal:
E2open, Inc. (NASDAQ: EOPN) announced Thursday, that Insight Venture Partners will acquire E2open for $8.60 per share or approximately $273 million. An affiliate of Insight will commence a tender offer for all the outstanding shares of E2open common stock for $8.60 per share in cash. The deal was firs rumored in a report by the Wall Street Journal in January.
The deal is expected to close before the end of Q1 of FY 2016.
E2open shares gained almost 40% Thursday, closing at $8.54.
View Comments and Join the Discussion!